Europe's Most Challenging Ski Destinations
Want to put your skills to the test next time you hit the slopes? We've put together a list of six of the most challenging ski destinations in Europe. These resorts are ideally suited to advanced skiers and should be on any serious skier's bucket list!
With a combination of tough black pistes and great off-piste routes the best resorts in Europe for advanced skiers are:
La Grave, France
This resort is not for beginners, or even intermediates, and is aimed squarely at skiers who have considerable experience tackling off-piste terrain. If you have the skills, then La Grave will be the ultimate playground. 
There's only one piste in La Grave and it's only about 300m long.  The rest of the "piste map" is just exclamation marks showing you the dangers of the extensive array of off-piste options.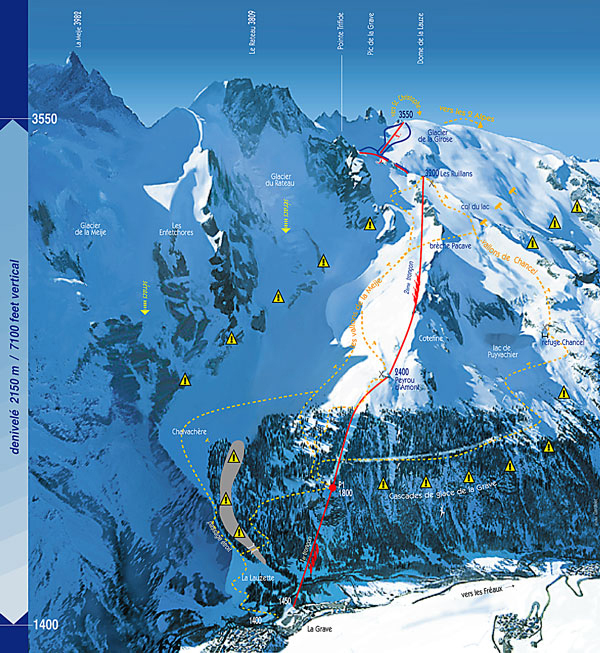 Expect to be challenged by couloirs, powder fields and glaciers with 2000m drops and striking descents towards the famous gondola to Les Ruillans. It's important to note, that this terrain is not for the fainthearted and it is essential for any skiers without intimate knowledge of the area to hire a mountain guide to help them tackle these challenging slopes.
Off the slopes, there is not much in the way of après ski opportunities. The resort is small, with a few local amenities and inviting bars and restaurants. But the main reason you've come here is to ski and tackle the big guns, after a day of slogging it on the slopes and tackling couloirs the last thing you'd want to be doing is shopping.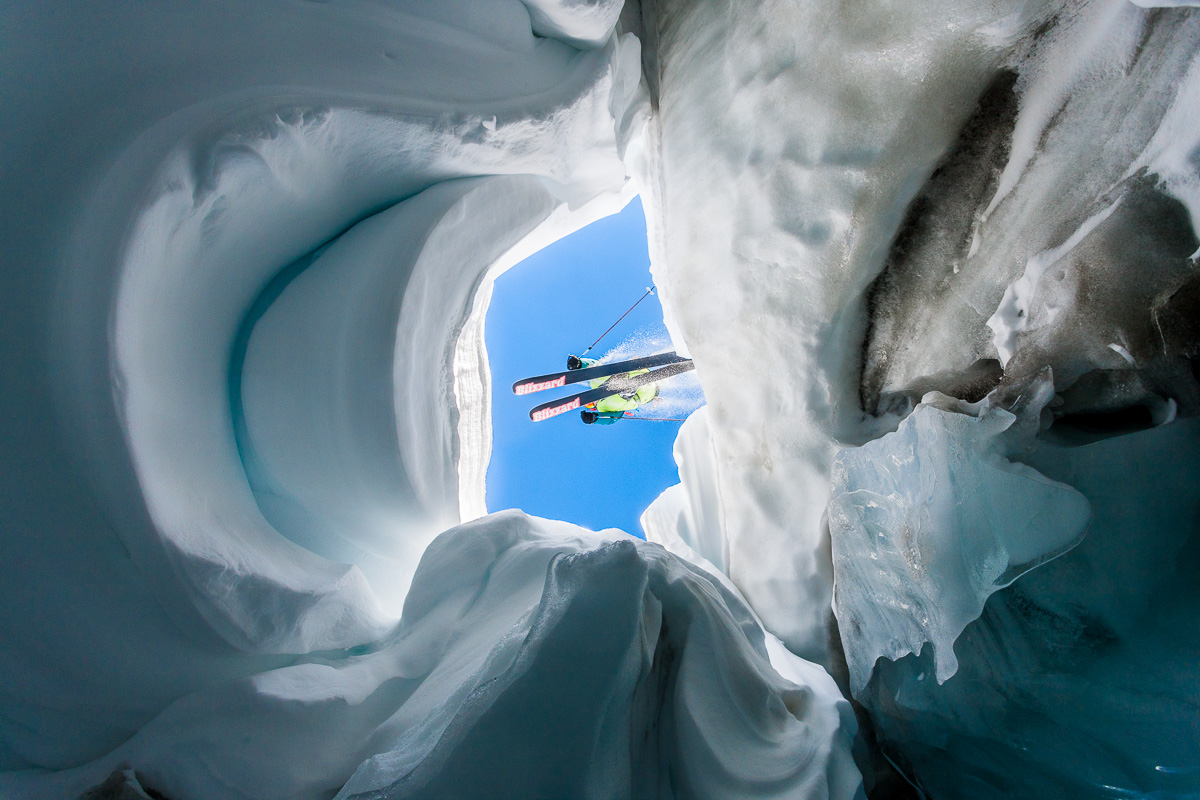 Chamonix, France
Located in the shadow of Europe's biggest mountain, Mont Blanc, Chamonix resort is best suited for thrill-seekers & those who are looking for fun both on and off the slopes. The resort has six areas, but the favourite amongst advanced skiers is the Grand Montets located above the Glacier Argentiere. To reach it you take a cable-car that reaches up to 3275m above sea level, so this is not one for those of you who have a fear of heights.
There are plenty of options for off and on-piste exploration, including two hair-raising black on-pistes which take you down from the top of Grand Montets! These two routes Pylones and Pointe de Vue offer you a daring challenge but also picturesque views of the Alps and glaciers. If you're feeling brave enough you can tackle the infamous Pas de Chevre, that' best known for its super-steep decline.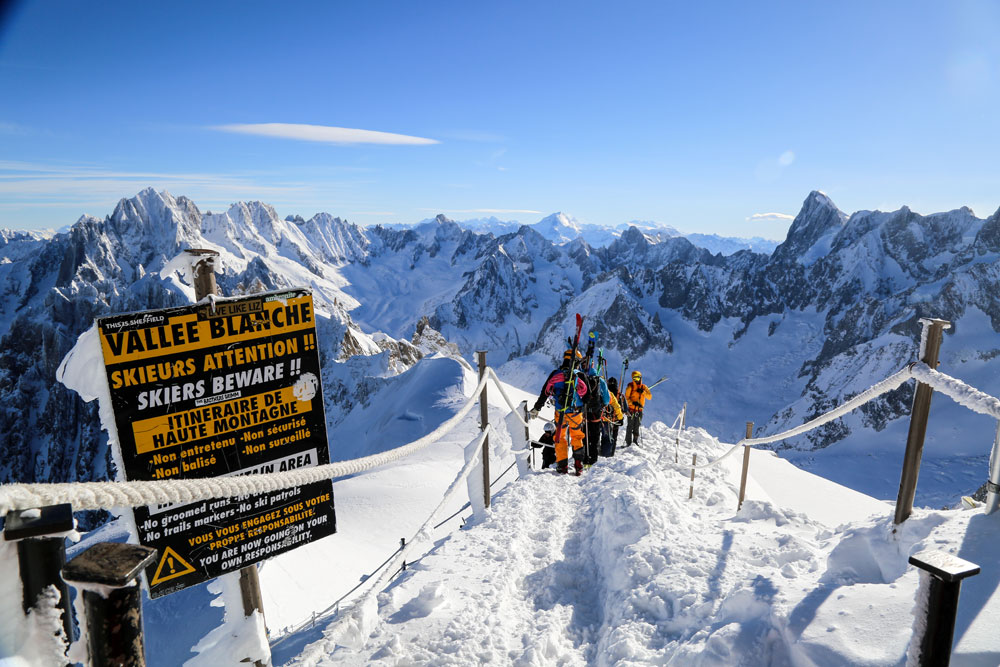 If you're really feeling extreme however, there's only one place in Chamonix to go and that's the Aiguille du Midi.  Yep, the one you've seen in all those ski films. You can tackle the marathon-like Vallee Blanche off-piste route that stretches for 21km, or one of the many 45-plus-degree couloirs dotted round.  Don't forget your ice axes, rope and crampons.
It's important to note that no matter how advanced a skier you are, it is recommended to hire a guide (like the amazing Paul S). The terrain here is demanding and the weather can be unpredictable. Always remember to practise caution and listen to the advice of your guide.
Andermatt, Switzerland
Andermatt is known as the ultimate resort for expert skiing. Famous for its reliable snowfall, appealing terrain and challenging slopes. Andermatt offers you two main ski areas, the Gemsstock and the Natschen area.
Start off your day tackling the Gemsstock Mountain which reaches over 2964m above sea level and is the ultimate challenge for any expert skier. This route offers you thrilling black off-piste routes with vertical plunges for nearly 1000m to get you to Gurschenalp. You can then take another black route down to Andermatt. Once you've tackled this descent catch the ski lift back up and do it all over again.
If couloirs are more of your bag, then make sure you check out the Vorgipfel couloir in the Gemstock area.
If you want to try something gentler, then head to the other side of town to tackle the Natschen. This area offers runs that are perfect for intermediate skiers and is easily accessed from the new Chedi resort.
Andermatt offers a quiet apres ski scene, but it is beginning to develop due to the opening of the new luxury Chedi Resort. There are a variety of inviting bars and restaurants, with the village of Andermatt offering a quaint alpine feel, so that after a challenging day on the slopes you can relax and unwind.
Verbier, Switzerland
Verbier offers you world-class off-piste skiing that is easily accessible set amongst the spectacular backdrop of the Swiss Alps.
You can take Mont Gele's cable-car to Verbier's most advanced slopes. Try the route down to Sivier to perfect your technique. If you want something more challenging, try the narrower route which takes you to Lac de Vaux. Ready to take on the ultimate challenge? Head to the Mont Fort and take the black off-piste route or venture to Attelas, famous for hosting the Freeride World Tour event.
If you are looking for a location that you can explore solo and off the beaten path, then try the Bruson route. It is heavily wooded and takes you across the valley, even with a new link it isn't often frequented by tourists, so would be ideal for someone looking for some peace and quiet.
Livigno, Italy
Livigno is set in the Lombardy region of Italy, close to the border of Switzerland. It is a duty-free region and is cited as being the ideal destination for skiers of all abilities, including those who are looking for a challenge. It's well known for having a buzzing après-ski culture, which is fuelled by the duty-free status of the region, making shopping a popular activity off the slopes.
Not long ago skiing off-piste was illegal.  Luckily things have now changed and a big freeride culture is emerging – you can even heliski in two challenging areas: the Valle delle Mine and the Valle del Monte (and heliskiing in Livigno is actually pretty reasonably priced!).
[embedyt] https://www.youtube.com/watch?v=K4zMMQ9oC7U[/embedyt]
Livigno is also one of the only ski areas to produce its own avalanche report at resort level – usually these are created at a regional level.
In Livigno, there are two ski areas called Costaccia-Carosello 3000 and Mottolino. In the Costaccia-Carosello you can expect to tackle mid-range red pistes, with a few short black runs, ideal for intermediates wanting to put their skills to the test. Mottolino, on the opposite side of the valley, offers a cluster of tough black runs off the Monte Della Neve, the rest of the slopes are mid-reds. There is also a snowpark in Mottolino, which boasts two halfpipes and some adrenaline-inducing kickers and jumps. There's plenty to get stuck into!
After a busy day tackling challenging pistes, you deserve some rest and relaxation. Livigno is a duty-free shopping zone, meaning you will be able to buy items tax-free. If you fancy some excitement off the slopes why not try your hand at ice skating, snowmobiling or a quad bike tour?
Val d'Isere-Tignes, France
The ski area formerly known as the Espace Killy is actually two resorts but we're treating them as one here as they're both known for their reliable annual snowfall and assessable off-piste routes for advanced skiers. 
Start your day by heading up the Olympic cable car in Val d'Isere, walk straight ahead until you almost reach the pisteurs' hut, then turn right and hike up the rest of the way to the top of the Rocher du Bellevarde where you can drop into the legendary Couloir de la Table d'Orientation, which joins the popular Cairn off-piste route halfway down.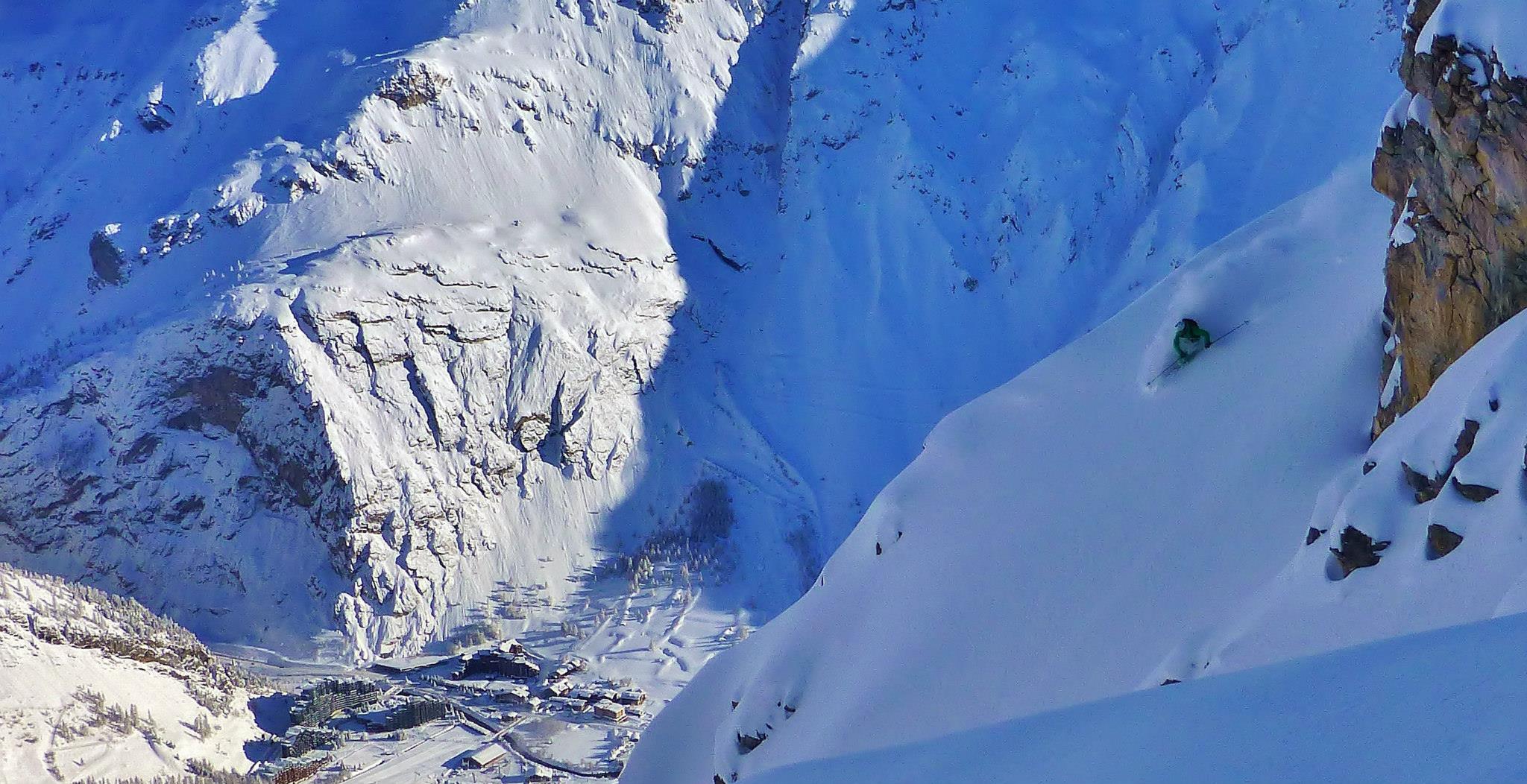 Head back up to the top of the Bellevarde and ski down to the Grand-Pre chairlift.  Once at the top take a hard left and hike 15 minutes until you reach the crème-de-la-crème of off-piste chute: Pisteurs Couloir, which got its name from the fact that only the pisteurs (ski patrol) were good enough (and mad enough) to ski it.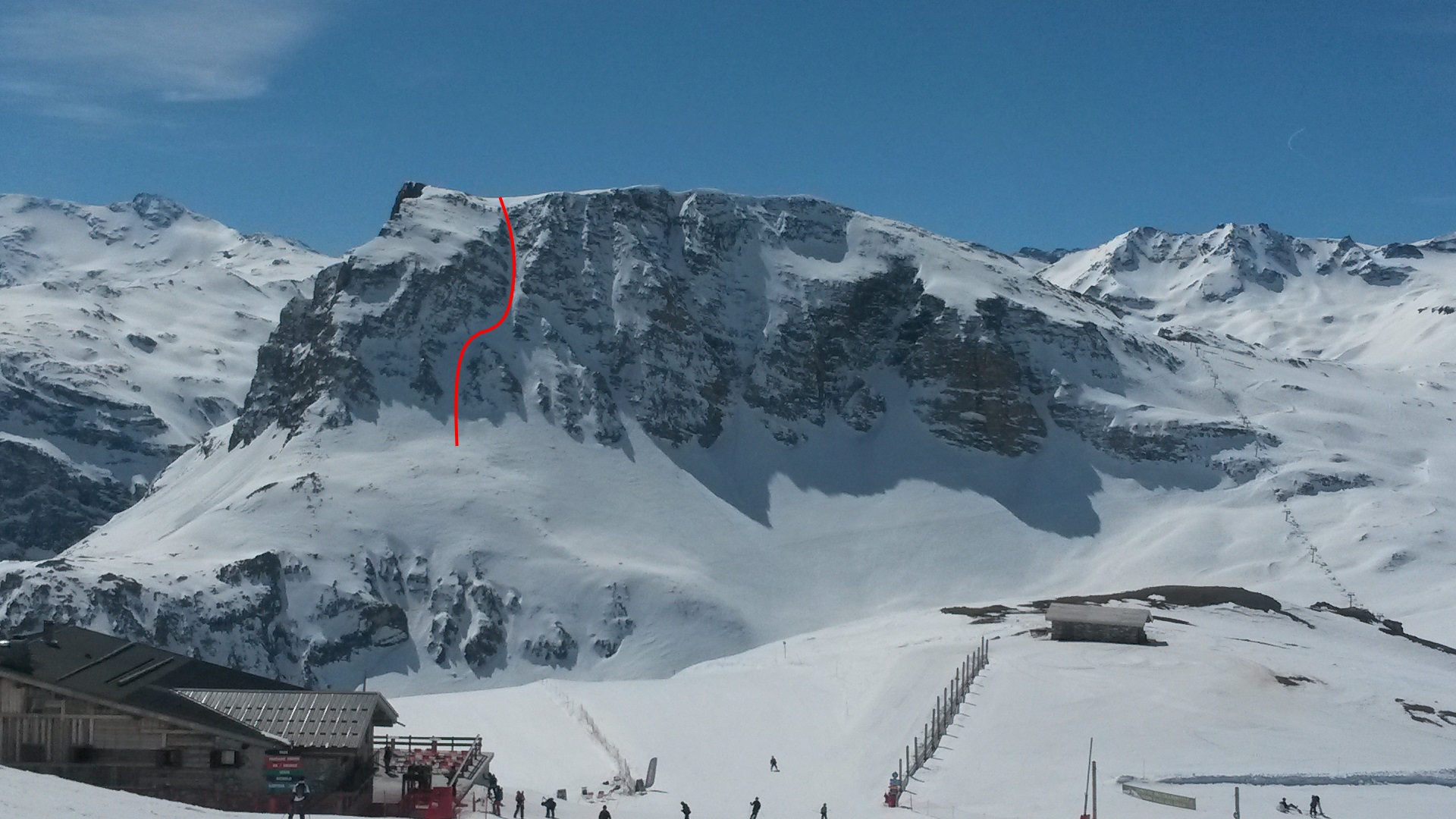 Over on the Tignes side, the must-do off-piste run is the Vallon de Sache starting at the top of the Aiguille Percée. This magical descent plunges 1200m vertical down a remote valley well away from the lift system and into the heart of the national park, finishing in the unspoilt hamlet of Tignes Les Brevières.
But it's not just off-piste routes that make this place so popular. There are also challenging on-piste routes for you to try, including the legendary La Face which was used for the men's downhill at the 1992 Olympics and takes you 1000 vertical meters from the top of Bellevarde to the centre of Val d'Isere.  If that's not long enough for you try the 10km long black run La Sache, ending in Tignes Les Brevieres.
---
Before trying any of these routes, or any off-piste skiing, you need to remember that once you leave the security of the pistes, you're on your own.  Unless you're an expert with intimate knowledge of the terrain and the current snowpack conditions, it is highly advisable to book a fully-qualified mountain guide or ski instructor.
So, you're an advanced skier with your own kit.  You've decided where to hit the slopes, but have you considered how you will get your skis there? Forget paying expensive airline fees & carrying them through the airport, why not use My Baggage? My Baggage is a fuss-free door to door shipping company that will transport your skis worry-free from your home direct to your destination. If you need to send skis internationally, My Baggage has you covered. Find out more and get a quick quote here.  
For more on crazy runs, check out this post on the steepest and scariest ski runs in the world by packed.co.