COVID 19 has put an end to the ski season, but we can still have a little skiing and snowboarding fun!
Skiers and snowboarders of the world: just because we're all stuck at home hiding from coronavirus instead of on skiing holidays – enjoying slushy spring hot-laps on the mountain – doesn't mean we can't enjoy skiing, right? *sob*
Emoji quizzes have become popular during this quarantine so we've come up with some ski resort emoji quizzes to help you pass the time.  To be perfectly honest, it helped us fill some time as well.
Swap pistes for a pen and get involved, this ski resorts quiz will cover most of the Alps and a good few resorts in North America as well. To things a bit easier for you we've divided the ski areas up into France, Austria, Switzerland and North American mini-quizzes.
It's not the Winter Olympics, but a good bit of ski trivia / a skiing quiz can still get the fires of competition going around the house.  Answers are all the way at the bottom of the post.
French Ski Resorts Emoji Quiz
This one will be a bit easier is you speak a little bit of French…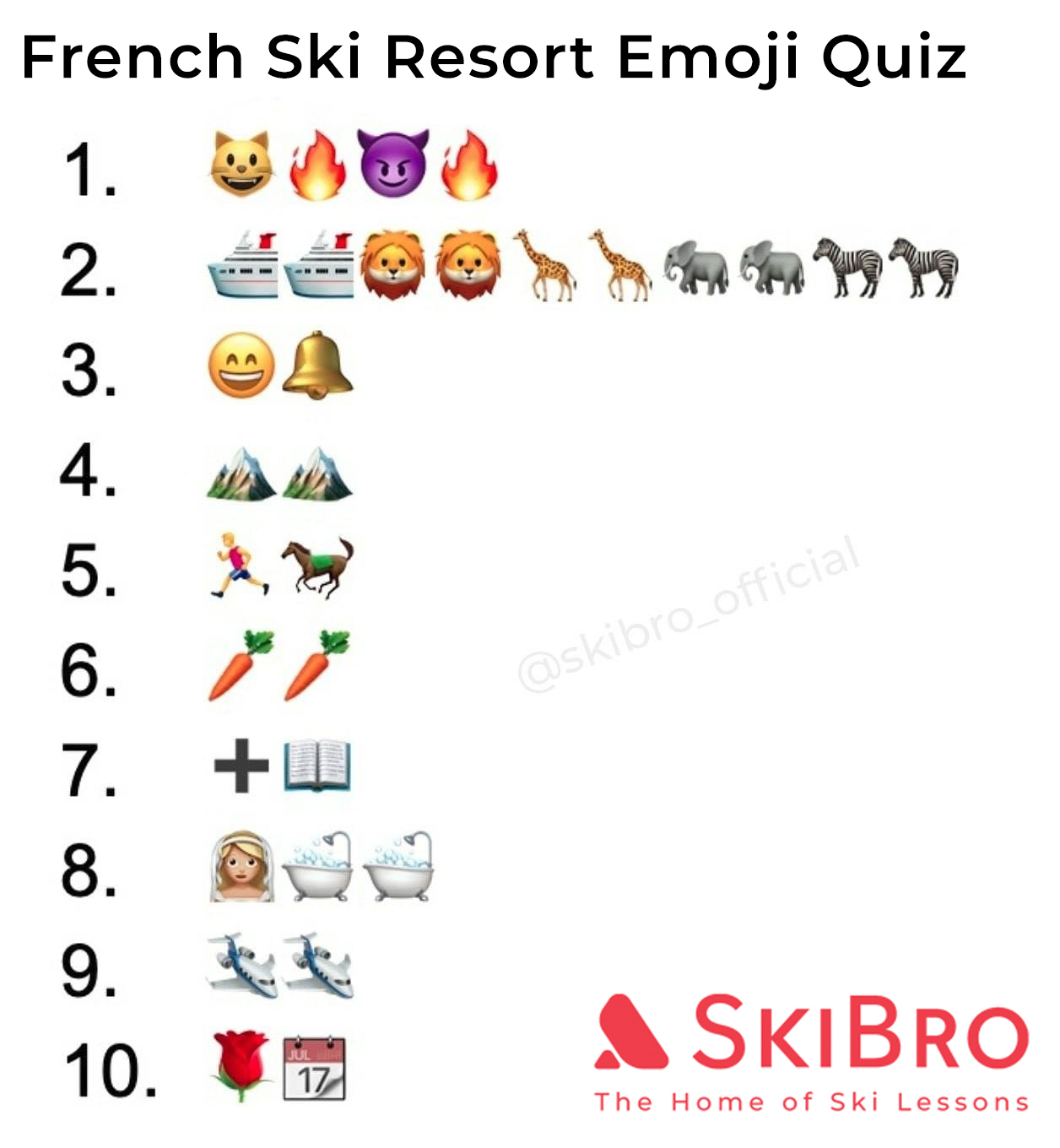 We admit that number 7 is a bit tenuous, but the next set should be a bit easier…
Swiss Ski Resort Emoji Quiz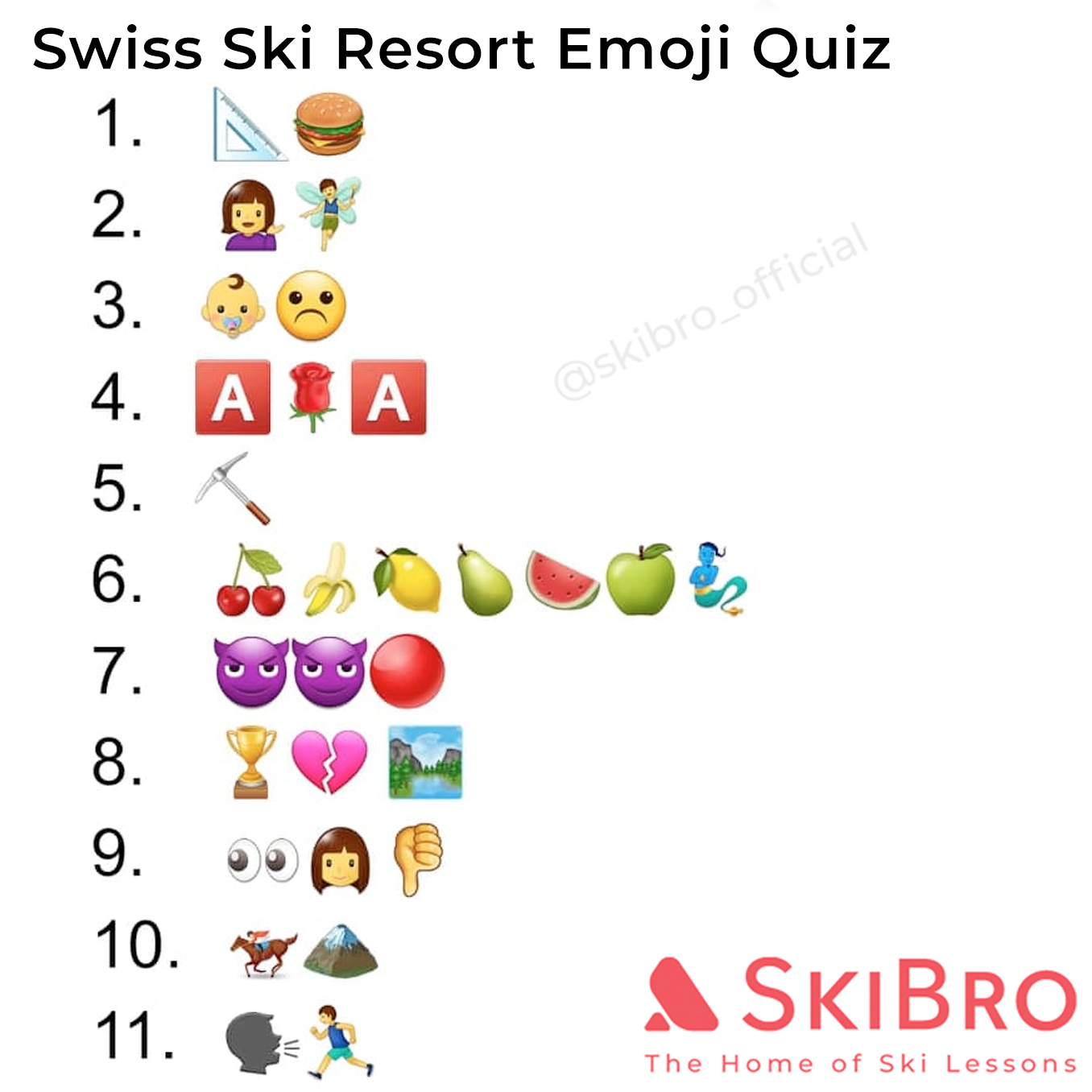 How did you do there?
Austrian Ski Resort Emoji Quiz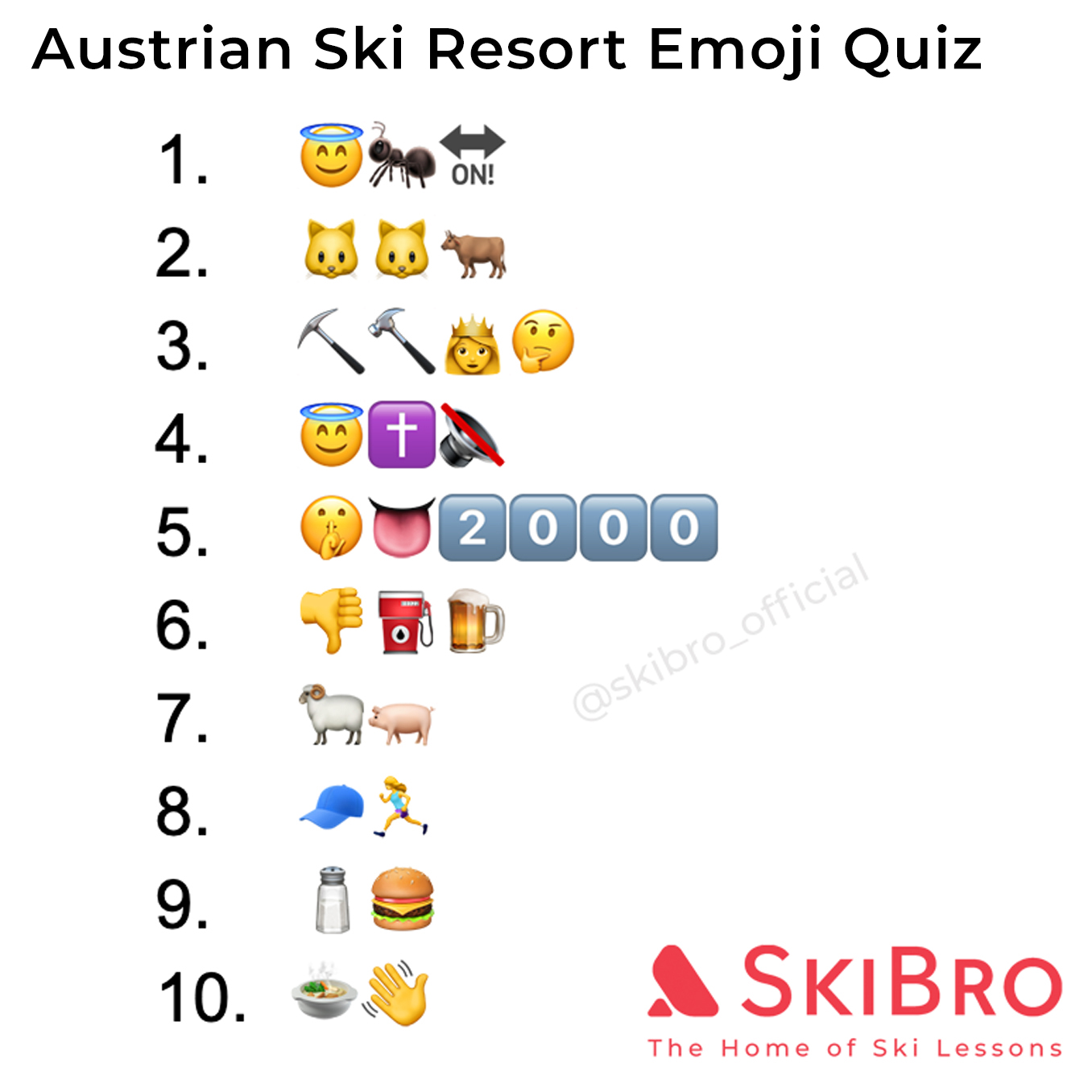 And to finish off, the quiz that the folk in the SkiBro office found easiest – North America.
North American Ski Resort Emoji Quiz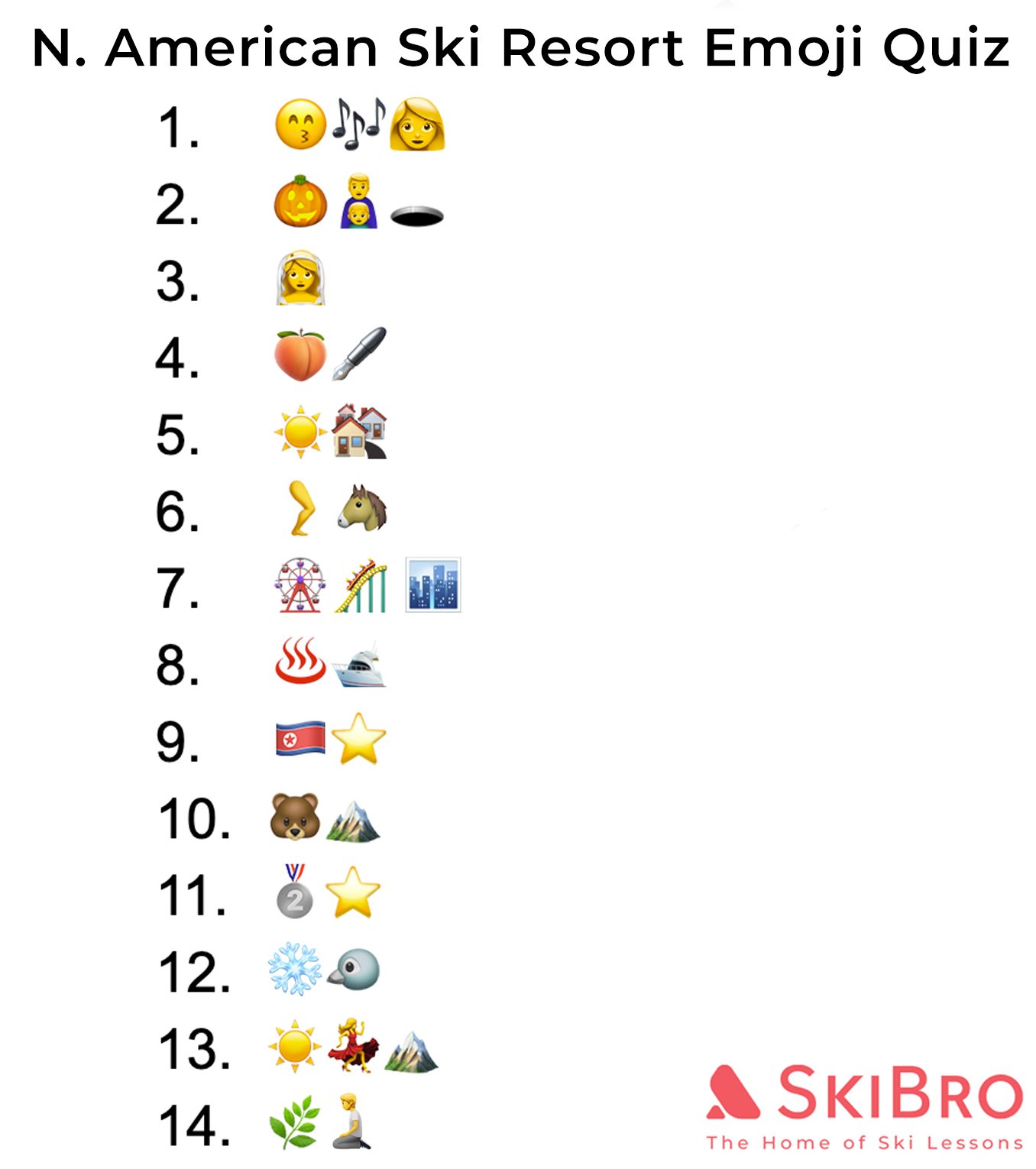 Well, hopefully that helps to distract you from the fact that you're not having lunch on the sunny terrace of a mountainside restaurant right now.  Sorry if writing that defeated the purpose… there's always next year – ski season 2020-2021 will be here before we know it!
To see the answers, scroll down.
France
Chatel = chat + hell
Les Arcs = two Noah's arks
Meribel = merry + bell
Les 2 Alpes = two mountains
Courchevel = cours (run) + cheval (horse)
Les Carroz = multiple carrots
Morzine = more + magazine (yes, this one is slightly tenuous)
Brides les Bains = bride + bains (baths)
Les Gets = multiple jets
La Rosiere = rose + hier (yesterday); notice the date on the calendar is being torn off, because it's yesterday

😉
Switzerland
Engelberg = angle + burger
Saas Fee = sassy + fée (aka. fairy)

Jungfrau = young + frown

Arosa = A + rose + A
Laax = l'axe

Fruitigen = fruit + djinn (aka. genie)

Les Diablerets = two devils (diables) + red

Champex-Lac = champ(ionship trophy) + broken heart from my ex (you know who you are if you're reading this) + lake (lac)

Leukerbad = look + her + bad

Riederalp = (horse) rider + alp

Sedrun = said + run
Austria
Saint Anton = saint + ant + on
Kitzbuhel = cats + bull
Axamer Lizum = axe + hammer + Liz (Queen Elisabeth) + um

Saint Christoph = saint + Christ + sound off

Schlick 2000 = shhhh + lick + 2000
Bad Gastein = thumbs down (bad) + gas (pump) + (beer) stein
Ramsau = ram (male sheep) + sow (female pig)
Kaprun = cap + run
Salzberg = salt + burg(er)
Stubai = stew + bye
North America
Whistler = whistle + her
Jackson Hole = jack (o'lantern) + (a man and his) son + hole
Vail = (a bride's) veil
Aspen = *ahem* a peach + pen
Sunshine Village = sun + village
Kicking Horse = a kicking leg + horse
Park City = a theme park + a city
Steamboat = steam + boat
Northstar = North Korean flag + star
Bear Mountain = bear + mountain
Silverstar = silver medal + star
Snowbird = snow + bird
Sundance Mountain = sun + dance + mountain
Fernie = fern + kneeling