Don't pay to go skiing – get paid to ski!
Calling all skiers: we're hiring ski lesson reviewers of all levels to ski across the Alps this winter!
Whether you've never skied before or you're an ex-World Champion, you can apply below to head out Cortina d'Ampezzo, St. Anton, Val d'Isere or Verbier this winter and get paid £600 a week (plus a lot of other benefits) to help us review ski lessons.

Yes, your dream job exists and is accepting applications: we're looking for regular people of any ability who want to level up their skiing or snowboarding.
From beginner lessons to the cinematic pack (an off-piste adventure accompanied by professional videographers), at SkiBro we've got an instructor or course for everyone and we want you to help us show the world just how much of a difference good lessons can make.  We believe there's a way for everybody to unlock their inner potential and realise their ski dreams whether they're eight, eighteen or eighty years old.
So exactly does the job entail?  All you need to do is choose any lessons package you think will be best suited to what you want to to achieve, take ski lessons during the day, enjoy yourself at night and update your social media followers on your progress.   One of our in-house videographers will be on-hand to help you vlog your experience.
In addition to your £600 per week salary you'll also get a pretty generous expense account (if we do say so ourselves) including: return flights or train tickets to the Alps, transfers, lift passes, accommodation for the duration of your employment and even a free VIP spa package to help those tired muscles recover – we'll even spring for a friend/family member/partner to accompany you on your trip!
Best of all, because CVs are just as boring to sift through as they are to make, we're not going to bother with formalities, just fill out the form below to apply.
Apply here:
Update, Dec 26, 2019: Applications for the Dream Job are now closed.  Thank you to everyone who applied, we've got several thousand entries to go through, which we will have done in the next week or so.  If you've been chosen to go through to the interview round you'll hear from us before the 5th of January.  If you don't hear from us you've unfortunately not been selected, but there's always next year!
As you might expect we're expecting a lot of applications so feel free to try and get our attention in other ways too like posting a picture of yourself living your best ski life to social media, tagging @skibro_official and using the hashtag #getpaidtoski.  Here's an example: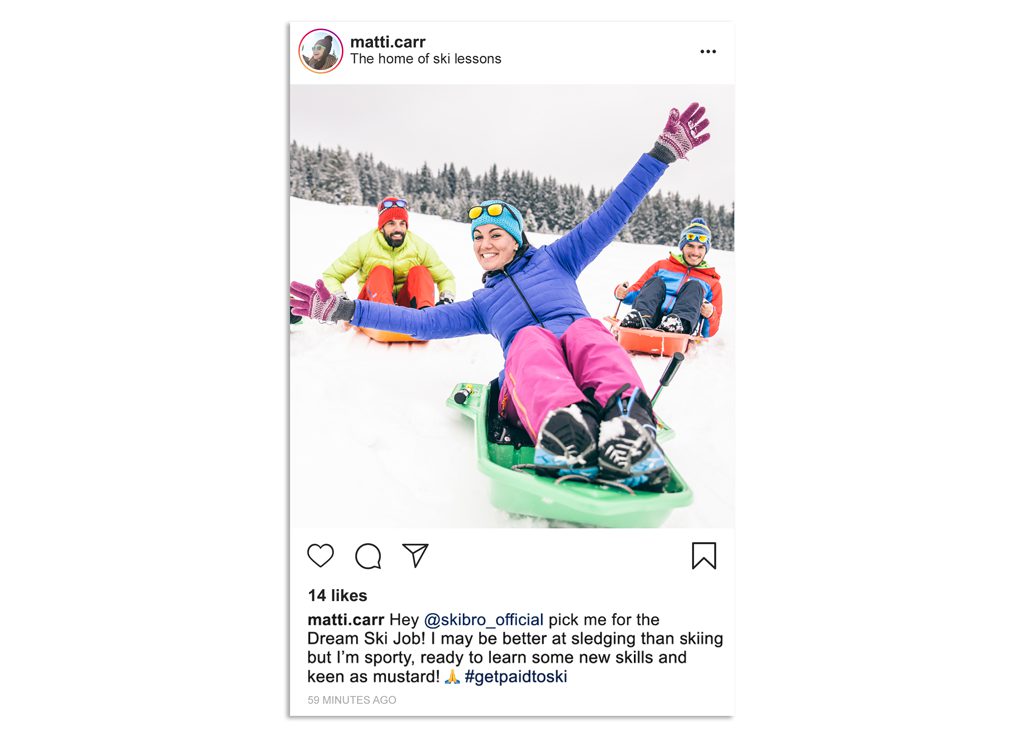 Successful applicants will be offered between one and four weeks work this winter, judged on a case-by-case basis.  Applications close at midnight on Christmas Eve.
Good luck, and hopefully we'll see you in the snow!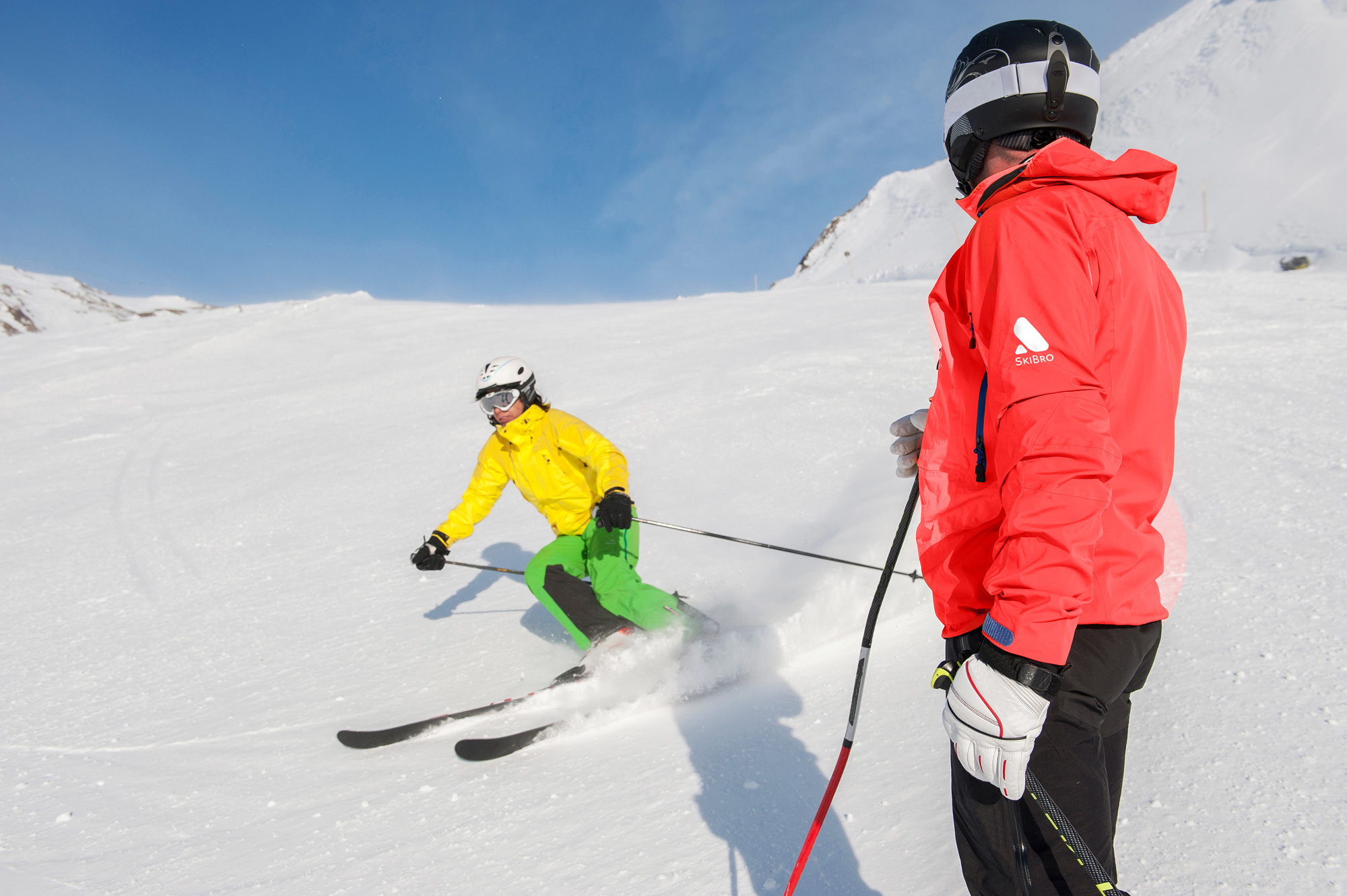 Terms and Conditions:
Applications are open to adults aged 18 or over.
Applications will be accepted until 23:59, December 24th, 2019.
This is not an offer of full-time employment. Selected applicants will each be employed for one week to four weeks between January and April, 2020.
Successful applicants may choose from available weeks in January, March or April.  Weeks may or may not be consecutive.
If you are unavailable for any of the available weeks, the job will be forfeited and awarded to another applicant.
By adding pictures that tag SkiBro's social media accounts and/or feature the hashtag #getpaidtoski to your social media channels you give SkiBro the right to re-publish them on their own social media channels and in other promotional material.
During your winter work week(s) you agree to be photographed and/or filmed for promotional purposes.
Select hires will be given the option to bring a friend/partner/family member.  Your chosen companion will not be paid, although they will receive free airfare, transfers and accommodation.
Companions may be under 18 years old, provided they are accompanied by their legal guardian.
Videos and photos on this page are for illustrative purposes only and your experience may differ from what's shown.
There is no cash equivalent or alternative should you be unable to attend.
All Ts & Cs are superseded by the official offer of employment which will be sent to successful applicants.
If you don't have the legal right to work in the EU you're still welcome to apply but you're really going to have to knock our socks off for us to bother filling out any paperwork to get you a work permit.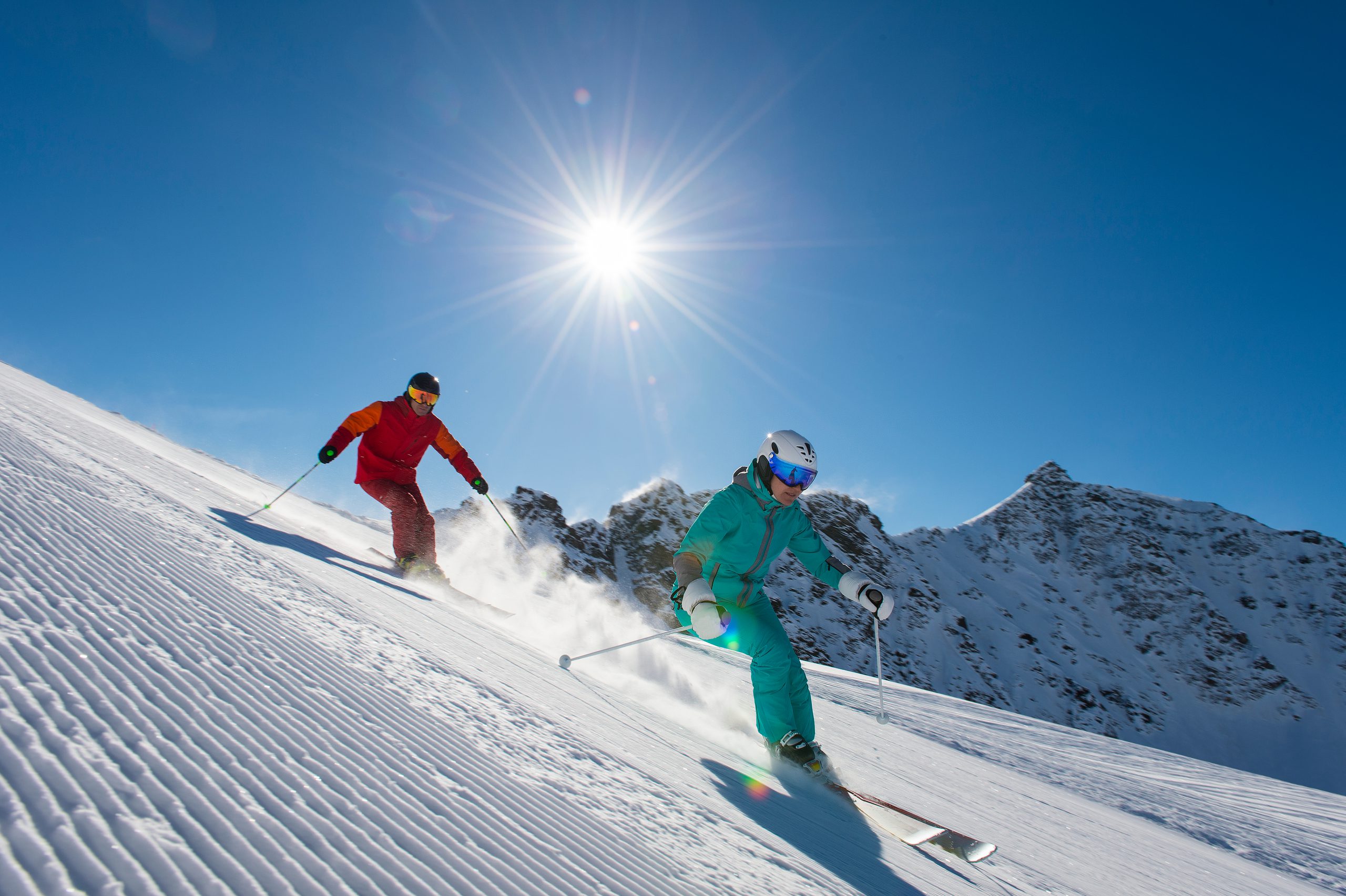 SkiBro is The Home of Ski Lessons – a one stop shop bringing together thousands of ski schools and ski instructors in resorts across the Alps and taking care of our customers with our best price guarantee and free cancellation policies.  We also come out with some top-notch ski-related content from tips and tricks, to the best weekly weather forecast in the business so be sure to like, follow and subscribe to our Facebook, Instagram, Twitter and YouTube channels.