Last update: March 15th, 2020 – 10h10
March 15h, 2020 – 10h10: It's official – all French ski resorts have now announced they are closed for the season.  This comes at the worst possible time for the many guests who travelled out to resort yesterday, only to find out they needed to make a U-turn and head straight back home.
Here in Val d'Isere, the feeling is quite surreal.  The few people on the streets are holidaymakers who didn't even have the chance to use their equipment, now returning their gear to the shops.
Tour Operators are making repatriation arrangements for their clients but things are more difficult for those who self-travelled by air.  There is no sense of panic, but people we've spoken to are feeling understandably stressed.  We will update again when we know more.
March 14th, 2020 – 21h50: Inghams Ski has just announced that they have heard from the French government that they will be closing "the ski lifts with immediate effect. This is despite assurances yesterday and this afternoon from the resorts and tourism bodies themselves that they would stay open until the end of the winter season."
"If you are due to travel to France on Sunday 15 March please do not go to the airport."
This appears to be the nail in the coffin for ski season in the Alps.
March 14th 21h30: La Clusaz, Les Gets, Chamonix and Chatel have confirmed they are closing.
March 14th, 21h20: Alpe d'Huez has just announced the resort and its lifts will be closed from the end of the day tomorrow.

March 14th, 20h45:  French Prime Minister Edouard Philippe has ordered the closure of all non-essential public locations from midnight tonight in response to the coronavirus outbreak.
France reported a sharp rise in cases on March 14th, from 3,661 to 4,499.
It is expected that the information posted below will change tomorrow morning.  We will update this post as and when we have more information.
Which French Ski Resorts are Affected by Coronavirus?
March 14th, 09h45:
Val Thorens issued a statement at 09h30 on March 14 stressing that the world's biggest ski area, the 3 Valleys, was fully open and plans to remain so.  They even went as far as to state: The French government does not envisage the closure for the moment of the French ski areas.
A post on the official Morzine-Avoriaz Facebook page made at 1pm on March 14th states that although the Swiss resorts in the Portes du Soleil have closed, all resorts and links on the French side are functioning as usual:
As [Switzerland] has decided to close all ski resorts on its territory, the Swiss resorts in the Portes du Soleil are now closed. Following this Portes du Soleil ski passes now have a 15% reduction. The French resorts are open normally : Morzine – Avoriaz, les Gets, Chatel, Saint Jean D'Aulps, la Chapelle d'Abondance and Abondance. Links between resorts are open.
Many large resorts including Chamonix, La Plagne, Les Arcs, Val d'Isere/Tignes and others issued statements on the 12th and 13th of March saying they plan to stay open until the end of the season unless higher governmental authorities step in and force them to close, regardless of the closures in Italy, Switzerland, and Austria.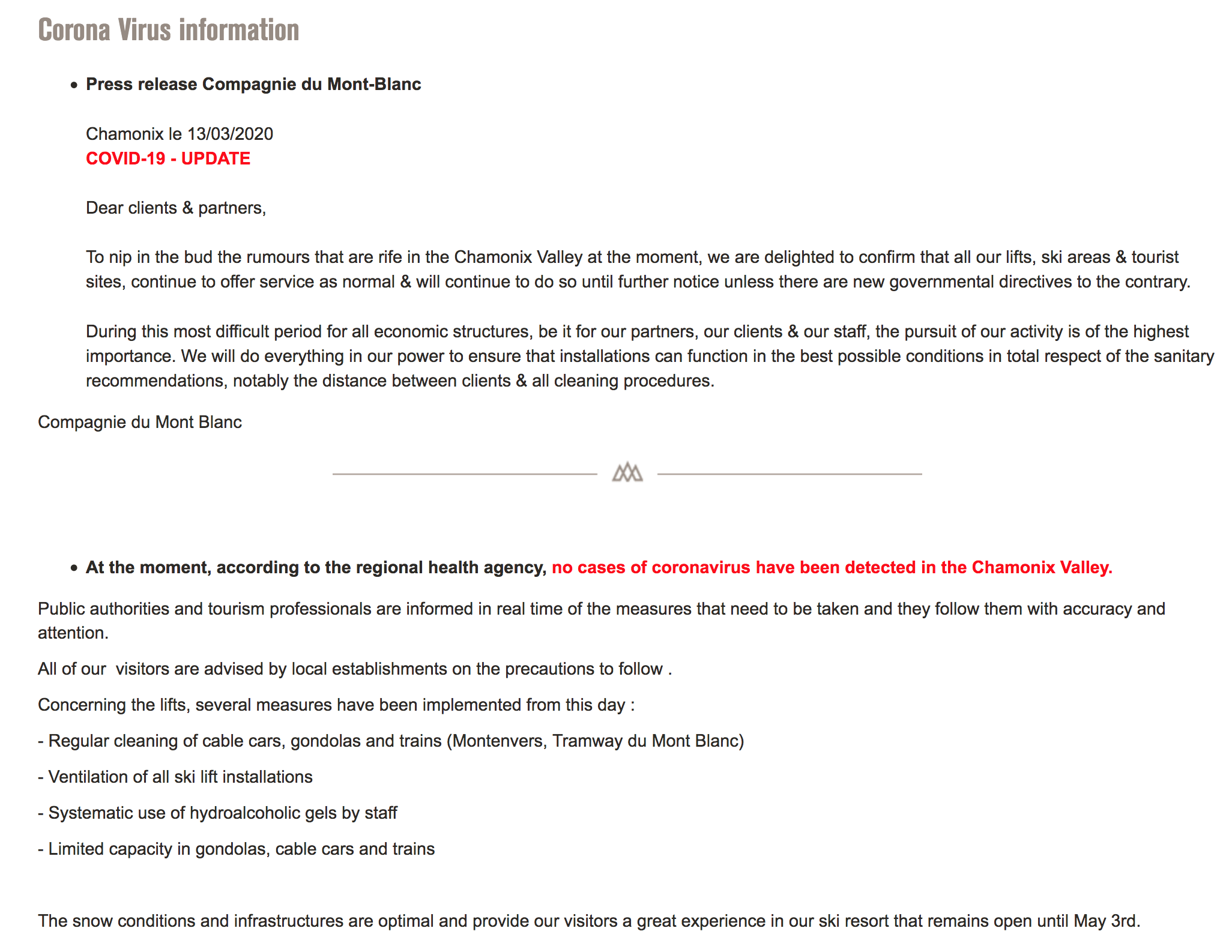 Local governments of many ski resort towns have scheduled meetings to talk about COVID 19 and its potential effect on their communities.  These will be taking place on Sunday or Monday, after the municipal elections take place this weekend.
Crystal Ski has cancelled all holidays to the French ski resorts of Les Orres, Montgenèvre and Serre Chevalier, all of which border Italy, as their flights land in Turin airport.
The French government has banned all gatherings of more than 100 people and therefore music festivals including Tomorrowland in Alpe d'Huez and Rock the Pistes in the Portes du Soleil.
All ski resorts are taking measures to reduce the risk of coronavirus contamination, including more regular cleaning of gondolas and trams as well as restricting the number of people allowed into these types of ski lift.
We will update this post as and when we get new information.
What Happens if I Decide to Cancel My Ski Trip?
Usually, your travel insurance will only cover you if your trip was planned for an area the FCO has now specifically advised against travelling to.  As there is currently no warning against travelling to France it is likely you'll be out of pocket should you decide to cancel your trip.
According to Su Crown, from the Association of British Insurers, "In general, cancellation or travel disruption cover will activate when the FCO advises against all travel or all but essential travel to an area – travel insurance is not designed to cover 'disinclination to travel' where the FCO advice has not changed to advise against travel."
If you wish to cancel your trip to a country not named by the FCO you will need to contact your travel provider to find out their exact cancellation policy.