---
English ski lessons! Choose from Courmayeur's best ski schools and private ski instructors - book online & learn to ski. Best price guaranteed!
In Courmayeur we offer a variety of private and group ski and snowboard lessons for all ability levels from first-time skiers to expert snowboarders and cater to all ages from children of 3 to 103 years old.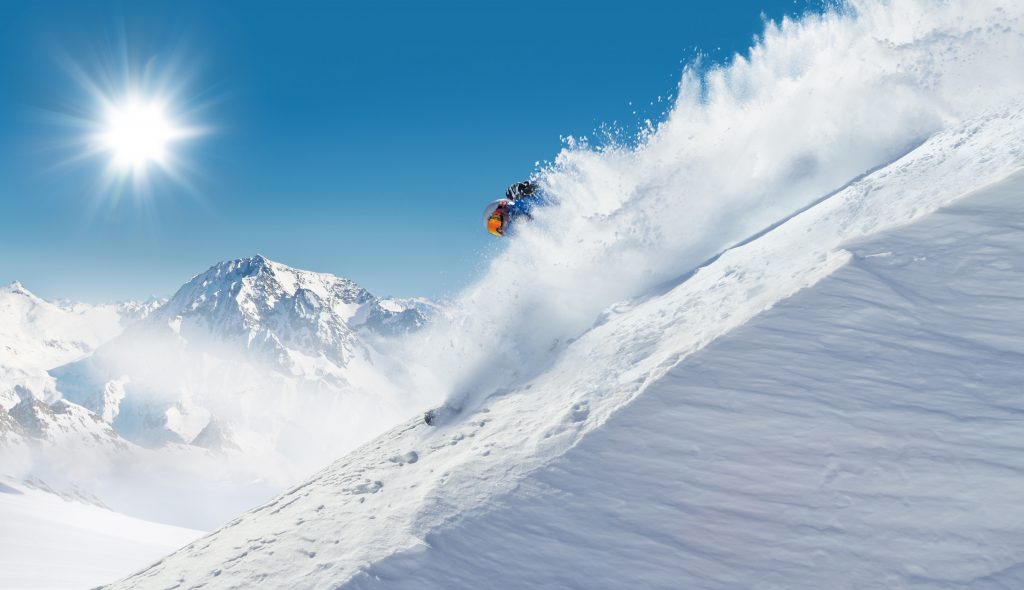 Skiing, snowboarding and unforgettable mountain experiences to put an exclamation mark on any holiday and we're proud to feature a wide variety including, but not limited to:
Skiing
For the vast majority of us on a winter holiday, skiing is the cornerstone of the whole holiday. Whatever your experience level and whether you're new to a resort or have been returning to an old favourite for years, everyone can get huge value from booking a ski lesson or two with a private ski instructor or joining a group course.
Children can generally learn to ski from the age of three – whether in special children's ski gardens, on the nursery slopes, or on gentle beginners slopes.
Snowboarding
If you're thinking small, think big. And if you're thinking big- think bigger! If you're new to a resort or even if you're returning to an old favourite, a top snowboard instructor or group snowboard lessons will help you unlock local secrets of the area that you'll wish you knew about years ago! Flatland tricks, jibbing, carving trenches, slaying powder – stop being a slave to your snowboard and learn to master it!
Telemark
Telemark skiing is a technique that involves skiing on regular skis fitted with special bindings which are fixed only at the toe but free at the heel. More challenging than alpine skiing, telemarking gives the thighs a real workout. The learning curve is steeper than alpine skiing and for this reason, telemarking often appeals to those that that have been skiing for years and are in search of a new approach and a fresh challenge. A few good telemark lessons could be the secret to re-igniting your love of skiing – you'll feel like a kid again!
Freeride / off-piste skiing
Considered by those who get into it as skiing in its purest (and most fun!) form, freeride (also known as off piste or backcountry) skiing is the pursuit of skiing all over the mountain, unrestricted by the edge of the piste in a variety of snow conditions. A good day's freeride skiing might involve long descents down wide open mountain faces, steep couloirs and adventures through the trees, far away from the crowded pistes. In addition to private ski instructors and guides you can also find camps and courses designed to give upper-intermediate skiers their first taste of off-piste delights. Be careful though, the white powder can be quite addictive.
Freeride / off-piste snowboarding
Snowboarding has its roots in surfing, and freeride (also known as off piste or backcountry) snowboarding – the thrilling pursuit of riding beyond the boundaries of the marked pistes – is the closest form of snowboarding to surfing and, many would argue, the most fun you can have on a snowboard. If your powder technique involves leaning back as hard as you can on your back leg, you're not riding very well (and probably have asymmetrically sized thighs). A proper off-piste snowboard session with local instructor will not only show you the best spots to go, but also how to properly ride them.
Ski Touring
Ski touring is the fastest-growing discipline in skiing and with good reason! If you are a keen off piste skier but lament the frenzy on lift-accessed a powder day or find yourself peering into the distance wondering what it would be like to ski that distant peak, then read on -ski touring could be for you! Ski touring involves the use of specially designed equipment that enables you to walk uphill with your skis on your feet, covering long distances and climbing considerable altitudes to get to slopes which would ordinarily be out of reach. Climbing skins are applied to the base of the ski, whose directional fibres enable the ski to glide uphill but not slide backwards downhill. Ski touring bindings have detachable heels to facilitate easy walking. Normal alpine ski boots can be used, but ideally lighter ski touring boots which have a greater range of movement in "walk mode" are best.
Splitboarding
Just as ski touring has taken the ski world by storm, so too splitboarding is becoming the hottest trend in snowboarding. If you love nothing more than riding untracked powder and lament the frenzy of a lift accessed powder day in resort then keep reading amigo- splitboarding is more than likely for you!  A splitboard is a regular snowboard that separates in half to enable you to walk uphill and is reassembled for the ride down. When separated, specially designed pivoting bindings attached only at the toe, combined with climbing skins attached to the base of the divided board allow you to walk uphill, covering long distances and gaining considerable altitude with relatively little effort. Those distant peaks you would otherwise stare at and mind-surf are now within reach!