Hiding in plain sight: the most underrated ski resorts in the Alps.
Have you ever been planning a ski holiday, and it just seems like you're going round and round in circles? Looking at resort after resort that you've looked at before, been to before, and are just thinking — come on, there must be something else out there that's not Les Arcs, Val Thorens, or Zermatt.
So you think — hey, I'll check out some other resorts. Some that are off the beaten track, maybe. Some that aren't so big. Some that I've never heard of. And then you realise there are more than 600+ in the Alps alone and that you have no idea where to start. I feel you. I really do. I've been there.
It's difficult, trying to find somewhere reasonably sized, with a good ski area, a decent town, and good prices. But fear not, because I've been writing resort guides all autumn long, and you're about to benefit from all the hours I've spent inspecting piste maps, tracing routes, and looking up towns that no one's ever heard of.
This is a guide of five resorts you may not have heard of, but that offer up something you probably won't get in the big, well-known resorts. They may not have it all, but each is special in its own way, and are well worth considering for your next trip. Especially if you want to inject some variety into your skiing!
Serre Chevalier
It's almost criminal that Serre Chevalier doesn't get its due, but that's why it's on this list.
If you're wondering where it is, it's located in the French region of Les Hautes Alpes and it has some very well known neighbours, sharing a valley with Briancon and just around the corner from Les 2 Alpes.

While Briancon was historically the first resort in France to offer ski lessons, it's fallen out of fashion due to the seeming lack of altitude in both the town and the mountain. But if you were still going by its lacklustre stats in the 90s, you'll be glad to know that there've been some serious improvements, and now, you can get up to a lofty 2800m, and enjoy 250km of varied terrain. 
Because of the shape of the valley, too, it's an excellent place for mixed groups. You have easy slopes down low, and then steep faces up high, meaning there's a good number of both green and black runs, and plenty in between. Throw that together with seven beginner areas and three snowparks spread out along the narrow-but-lengthy resort, and you've got some pretty impressive figures.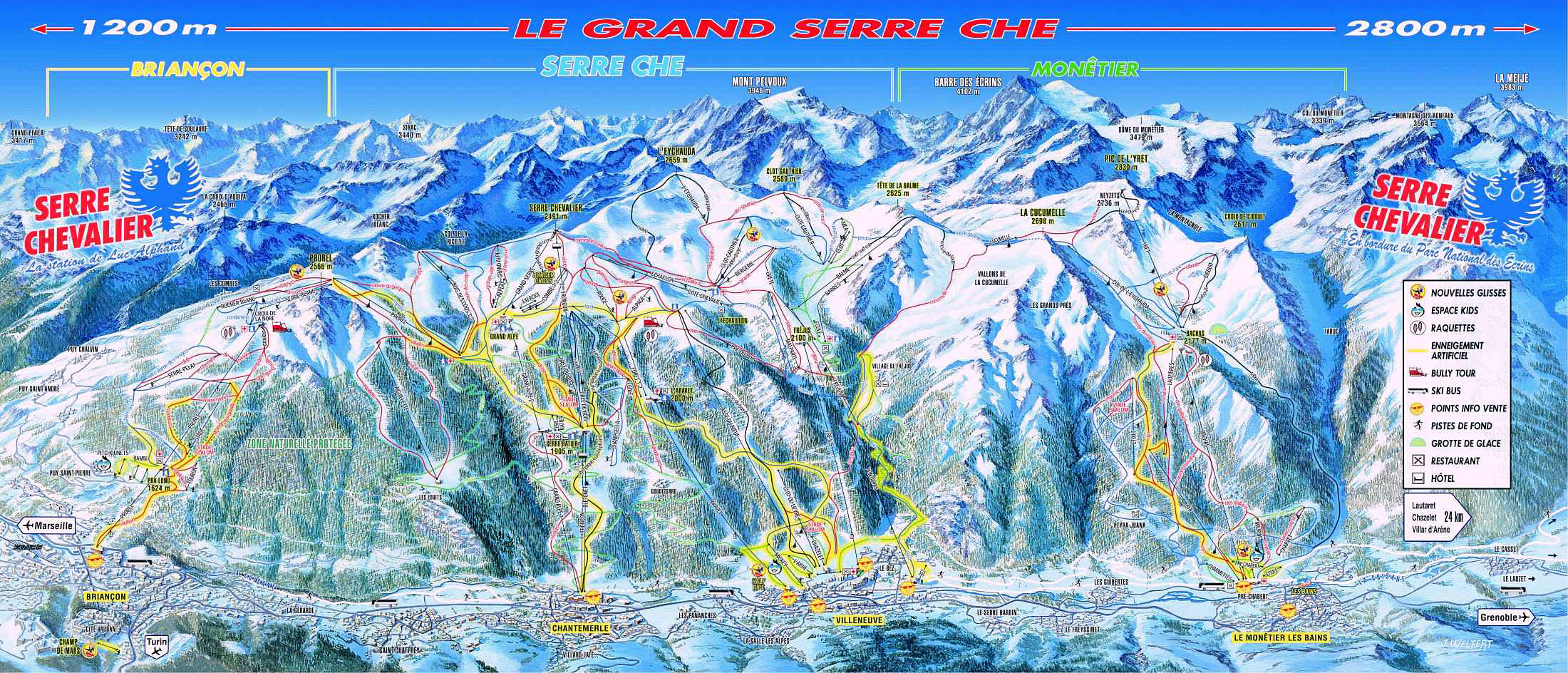 If, somehow, that's not enough, there's a shared lift pass that brings in both Les 2 Alpes and La Grave (if you're feeling daring).
Serre Chevalier is also reasonably priced due to it's size and the somewhat lengthy transfer, but is well worth the trip if you're looking for a large ski area that's not heavily frequented. Expect short lift lines and sunny days to go with the fresh powder.
Sainte Foy
What's a resort with just 30km of pistes doing on this list, you ask? Well, let me tell you.
Sainte Foy is surrounded by big resorts. Val d'Isere-Tignes, La Rosiere/La Thuile, Les Arcs – they're all worth considering, but what about the little brother among them? The one that offers fields of untracked powder, challenging descents, long lifts with no lines, and a cool and quiet village atmosphere where cheap beer and flash-fried steak and chips and pepper sauce is the order of the day? That's Sainte Foy.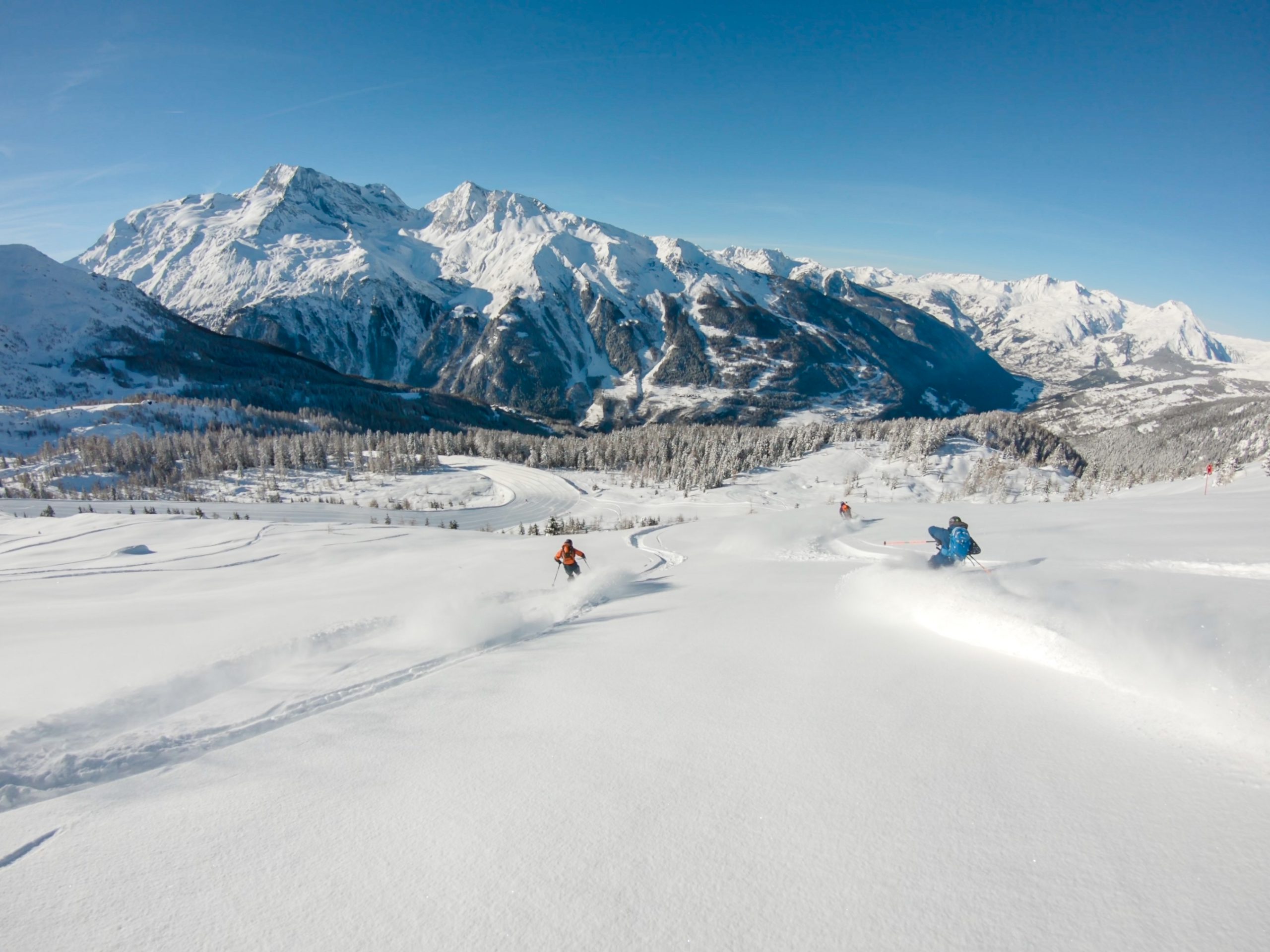 It'll take around 2 hours to get here from Grenoble or Geneva (which is on par with many other resorts) and what you'll get is an unspoilt French village with buckets of charm and fresh powder. There are just 16 pistes on offer, served by five lifts, but they're spread out over a full kilometre of vertical, with a top lift of 2,620m.
You've only got to glance at the piste map to see why all of this is a recipe for success. The lack of development means that staying here is cheap, and the small ski area means lift pass prices are very reasonable. The lack of total length on the pistes will scare off the advanced skiers looking for long blacks and triple digits, and the quietness combined with the value for money will attract families. All of this adds up to a resort that's practically empty for intermediate to advanced skiers looking to head up the mountain.
There are three dedicated off-piste areas, some very fast and long reds, and a couple of challenging blacks to sink your skis into, as well as a good variety of gentler, tree-lined terrain down low, making Sainte Foy a great all-rounder for those not bothered about size, but who want quality and value for money.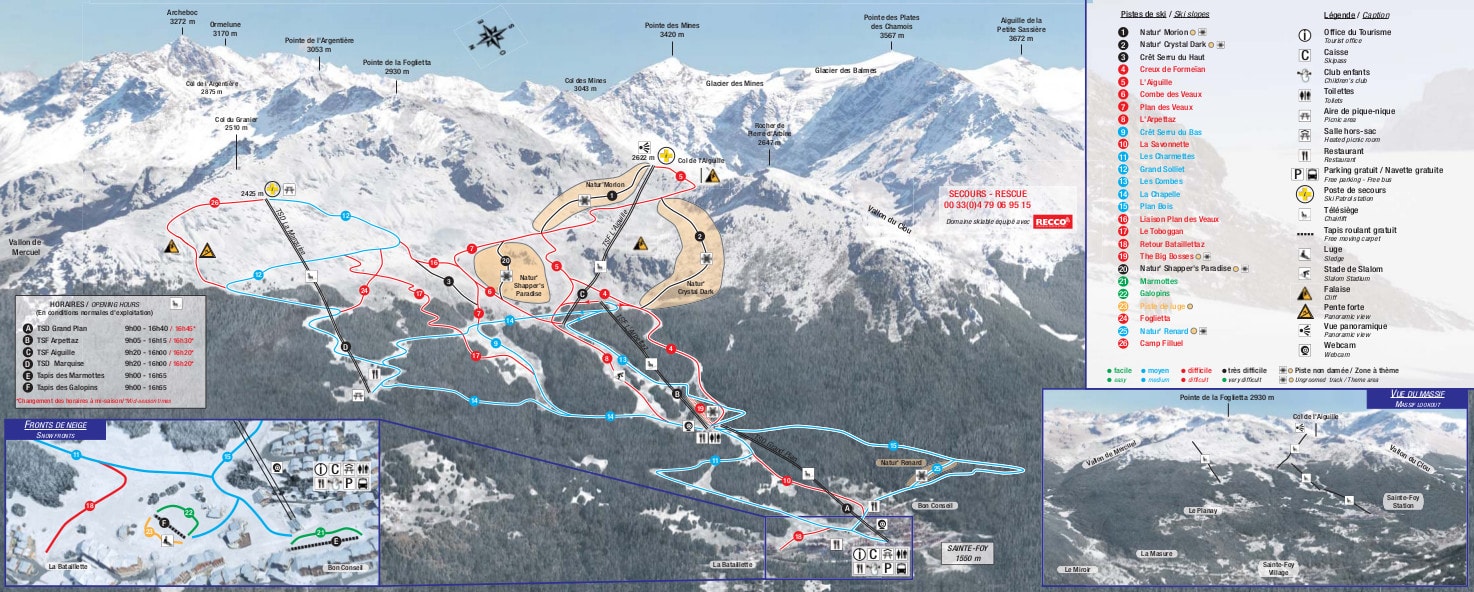 Even with just 30km of slopes on offer, it still blows many resorts out of the water, and with its non-existent lift lines and great in-resort value, it scored the final place on our list here, truly defining the words 'Hidden Gem'.
Crans-Montana
Never heard of Crans-Montana? Well, you'll be glad to know that it's in Switzerland, not the American North-West, no matter what the name suggests.
If you've been to Crans-Montana, you'll agree it's almost ludicrous how under-the-radar this resort is. If you've heard of it, but never been, well, you're missing out!
The two neighbouring towns of Crans and Montana joined forces in the 1960s to form a 6km stretch of skiing paradise that serves up a whopping 50,000 beds to visitors every season. On top of that, it has a 1500m vertical, a 3000m top lift, glacier skiing, 160km of varied runs, and two snowparks!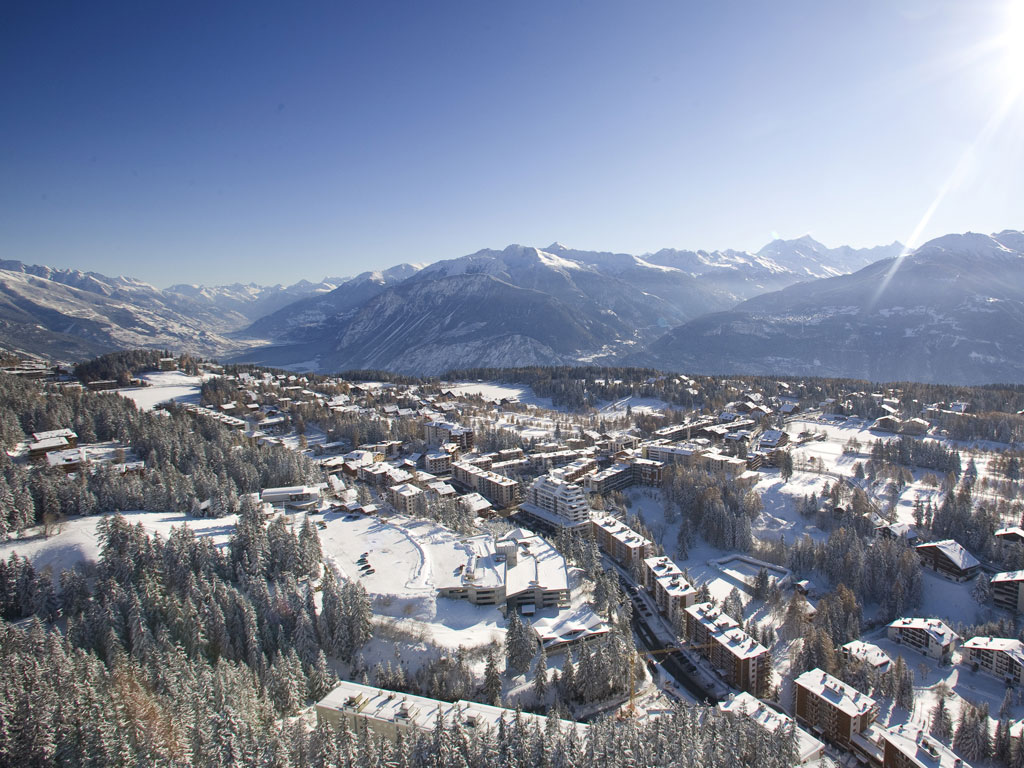 It's located just along from Zermatt, owing to its relative anonymity. It's overshadowed (no pun intended) by the Matterhorn and the adjoined skiing. But that doesn't mean you shouldn't be looking to stay here. Large towns mean competitive accommodation pricing, and as such you'll get some great value here at Crans-Montana, especially in comparison to the likes of the notoriously pricey Zermatt.
You'll also be treated to some great apres options, a brilliant family scene, and of course, the skiing. Let's not forget about the skiing!
Crans-Montana enjoys the same sort of snow record as Zermatt, and has everything from serpentine blues and reds in the trees to perilously steep black runs.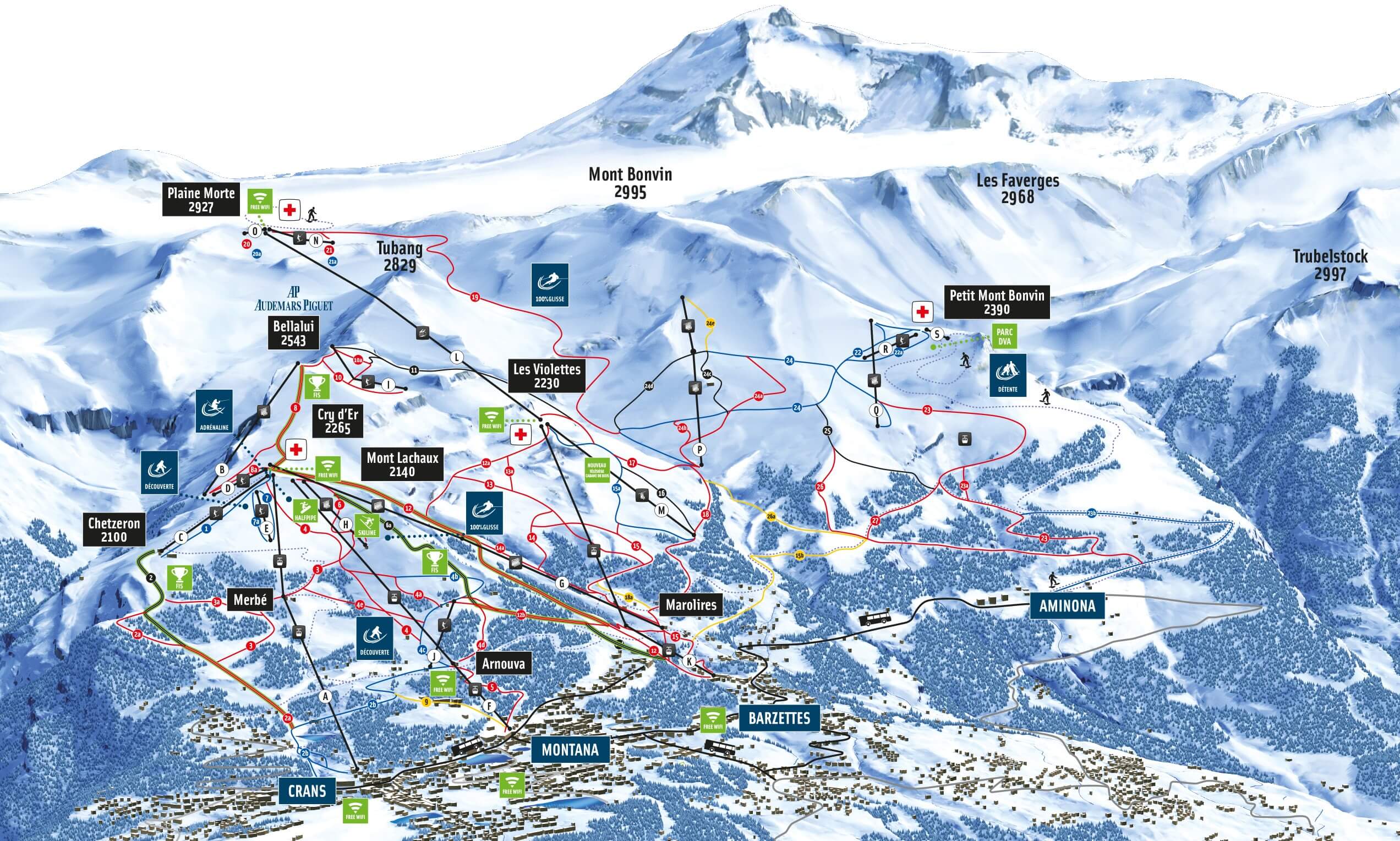 There's also oodles of ungroomed pistes for those looking to slash powder, a very convenient lift system littered with gondolas and six-seater chairs, and the sort of variety of terrain usually reserved for the giant resorts like Les Arcs: there's glacier skiing up high and gentle blues down low. Because of this, Crans-Montana is one of those magical do-it-all resorts that's primed and ready for anyone who's tired of returning to La Plagne or Tignes year in, year out.
Les Orres
Located in the Southern French Alps, Les Orres is often tarred with the same brush that stereotypes and stigmatises the area as having dated architecture and a poor snow record.
Les Orres, however, breaks the mould.  It's situated at a healthy 1600m, has a top lift of nearly 2800m, and offers up 63km of pistes — most of which have snowmaking capabilities. Though what you really need to know is that during the high season, there's only two types of weather. Snowing, or sunny.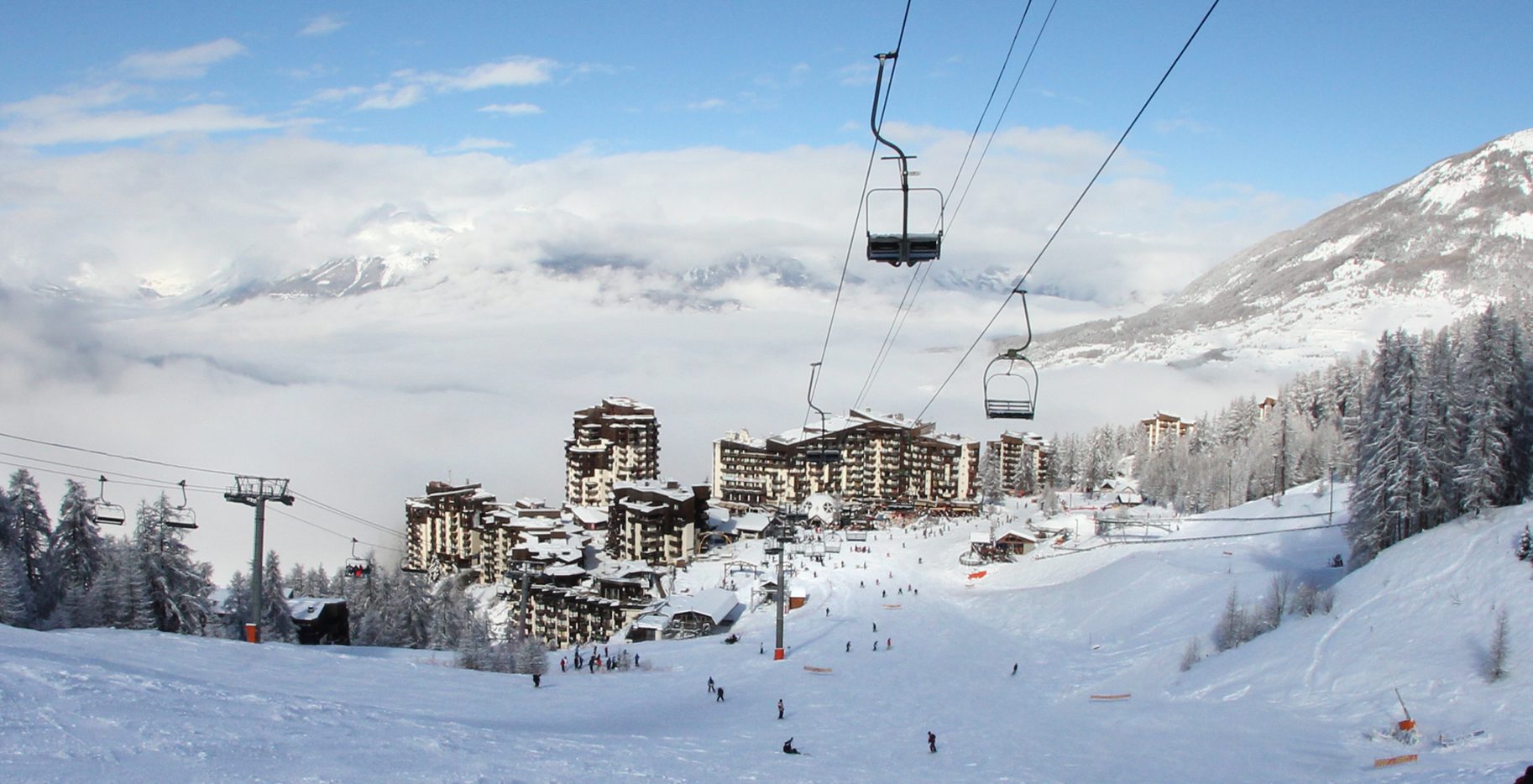 Considering its latitude, Les Orres has an excellent snow record, and over 300 days of sunshine a year on top! It's crazy, really, just how polarised the weather is here. It's southern location means that it's very rarely cloudy, but its position in the mountains means that it still gets a lot of high-altitude snow, making it the perfect combination of a solid snow record and loads of sunshine.
The catch is the lengthy transfer. Three hours from both Grenoble and Turin, Les Orres is mostly frequented by locals — both French and Italian — as it's near the border, too. Because of this, though, there are few tourists to overcharge.
The result? A quaint and quiet resort that has more in the way of family-run hotels and bars than corporate giants. However, you'll still be treated to a lively town with plenty of eating and dining options — they just run at the local rates, not the tourist prices — which makes Les Orres one of the most affordable ski trips around.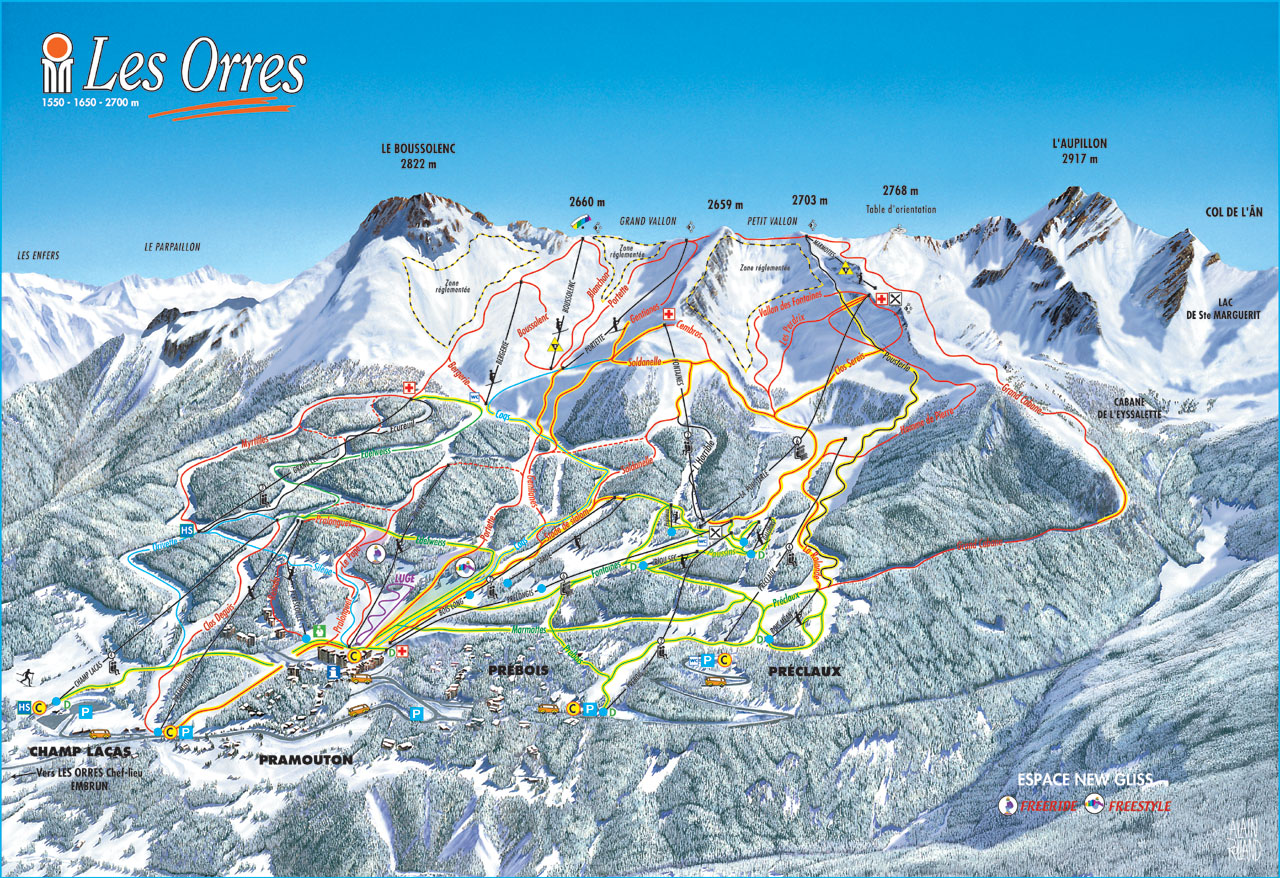 Our top tip for snagging the best deal to go with the best skiing? Book at the last minute when conditions are favourable, and snag yourself a bargain.
Livigno
Livigno isn't an under-the-radar resort by any means, it's hosting the Olympics in 2026 after all. Still, it's a resort that's often overlooked, partly due to the lengthy transfer from the airport.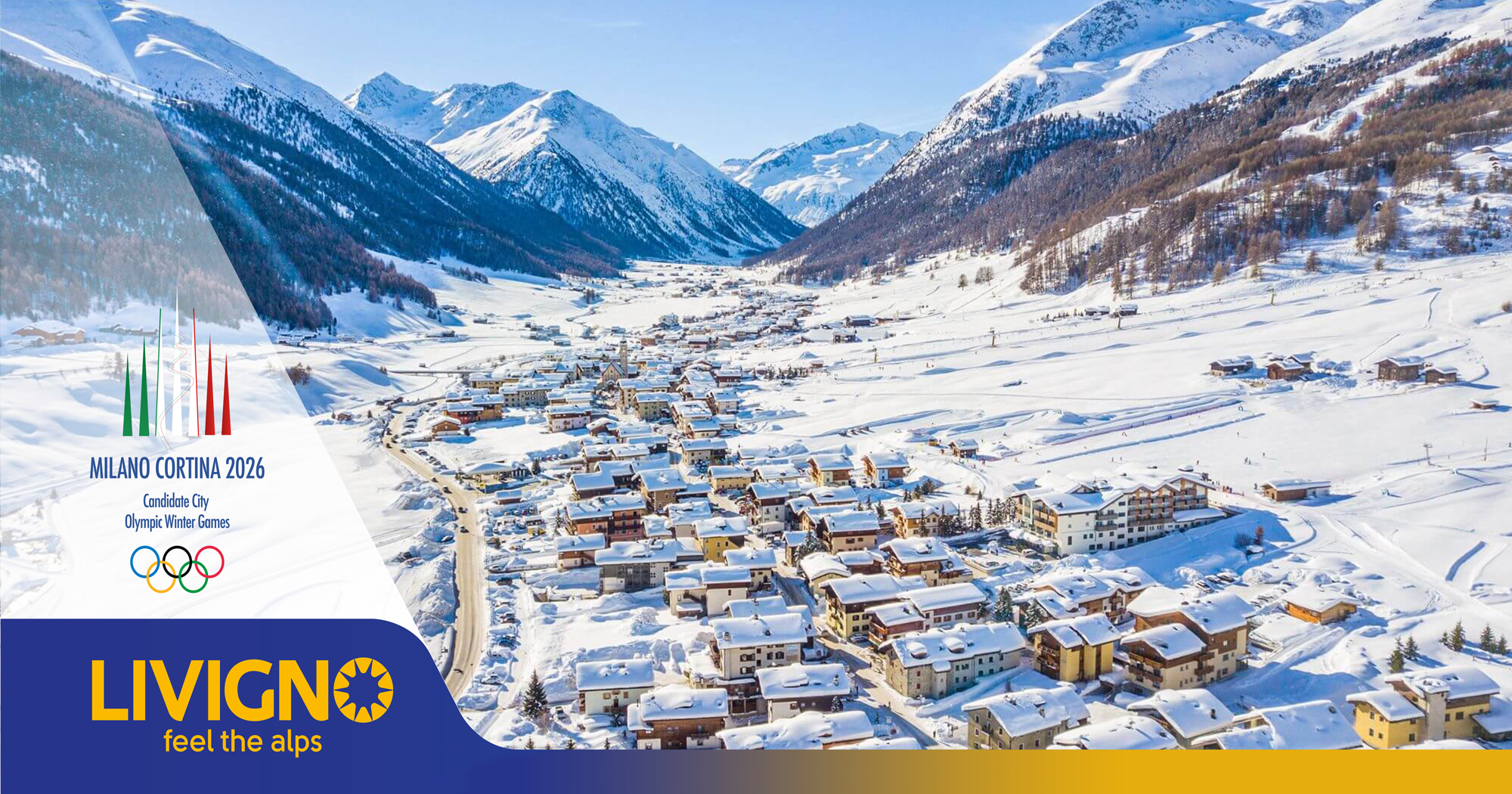 It'll take you more than three hours coming from both Innsbruck and Zurich, and will see you climbing endlessly through the Alps in order to reach one of the most isolated resorts in the entire region. 
But that's not necessarily a bad thing. If you can time it right, get an evening transfer and sleep for the whole journey – you'll reap the benefits of an amazing ski area without wasting most of a day on a bus ride. That's what I'd do, at least, and score myself a heck of a deal while I'm at it!
Livigno boasts some pretty excellent offerings for those willing to brave the three hour bus journey, including its incredible duty free tax status. That means that the cost of staying and, most importantly, eating and drinking here are very cheap compared to many other resorts. 
This makes it a lively town with a buzzing nightlife and lots of great Italian and continental food offerings. Hotels and accommodation are often very competitive, too, in order to coax people up from the more accessible resorts, meaning its savings all around.
On top of that, you'll enjoy a resort with a huge ski area, an amazing 3000m top lift, snow cover throughout the season, a mixture of runs for all abilities, as well as three dedicated beginner areas, and a whopping five snow parks.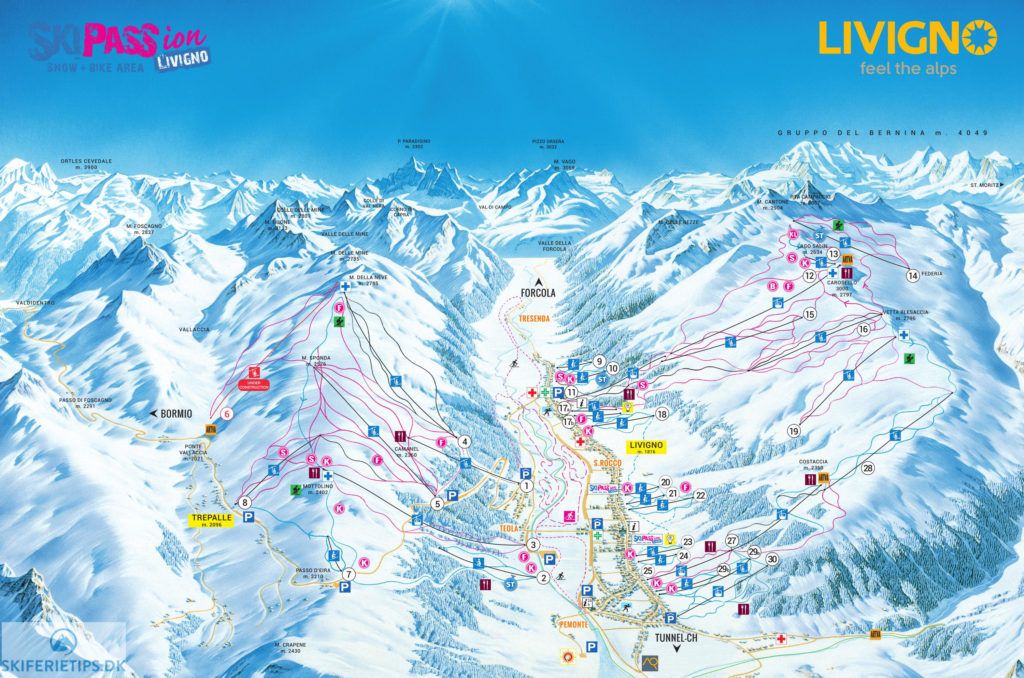 All in all, Livigno is a great all-rounder that provides some of the best value for money in all of the Alps — and is perfect for early or late-season skiing to boot.
---
Well, there you have it. My top 5 hidden gems in the Alps! You may have heard of some of them, maybe even all of them, but these were the ones I feel don't get the attention they deserve and I bet you haven't visited them all. So, what are you waiting for?