Whether it's a friend, a co-worker or simply your own curiosity, if you've made it to this post you're tantalisingly close to dipping your toes into the world of skiing.  You've heard how amazing it is – more a lifestyle than a mere hobby, so much so that a full 97% of people who go skiing in a given winter plan to go skiing again the following winter.
However, before you get to the part where you blissfully glide down snow-covered trails (or even the part where you get to drink a few glasses of rosé in the sun) there are a few details to work out.  It may seem daunting, but it's really not as difficult or confusing as you may think.  Especially when you follow these handy tips: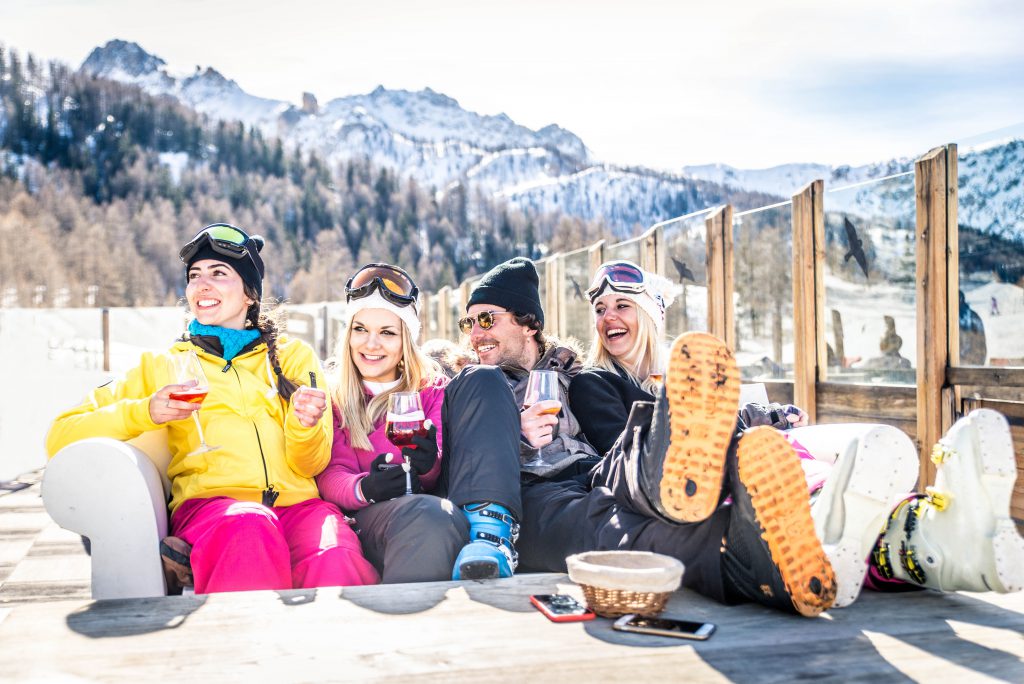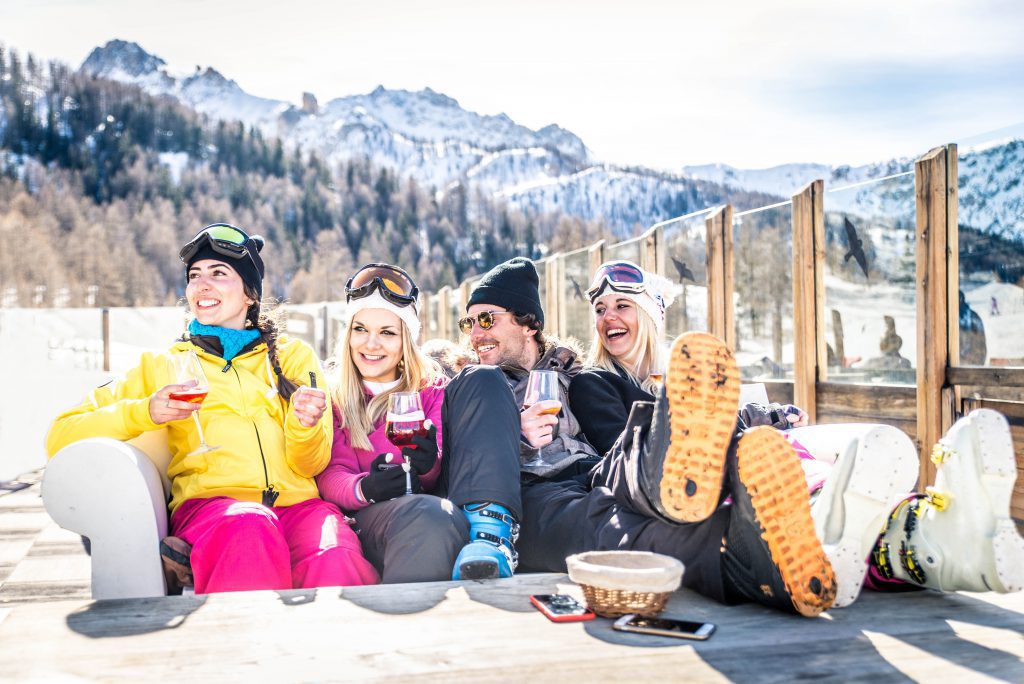 Choose the right destination for you- the "best ski resorts for beginners" aren't one size fits all.
Not all ski resorts are created equal and your mate's favourite ski area might not be suitable for the holiday you're after – and not just because the terrain is too difficult.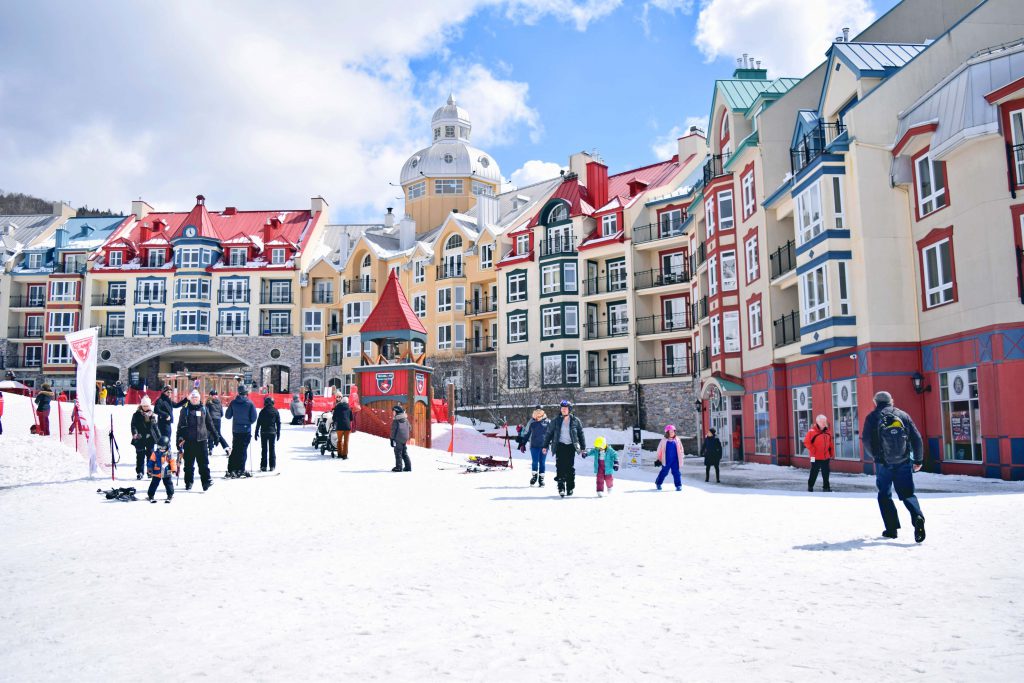 Many people choose the destination for their first ever holiday based largely around the average difficulty of the ski slopes; the internet is awash with lists of the "best resorts for beginners" but the fact is that there's a lot more to a ski holiday than just the skiing.
Most good choices for a first time ski holiday will have free-to-use, easy-to-access beginner areas and an assortment of wide, gentle runs that make it easier to comfortably progress.  After years in the ski industry, what many people who write ski articles forget is the feeling of wonder and excitement that they first felt when they set foot in a ski resort for the first time.
The place you learn to ski will forever hold a special place in your heart and you should try to find a resort that reflects not only your current skiing ability, but your personality as a whole.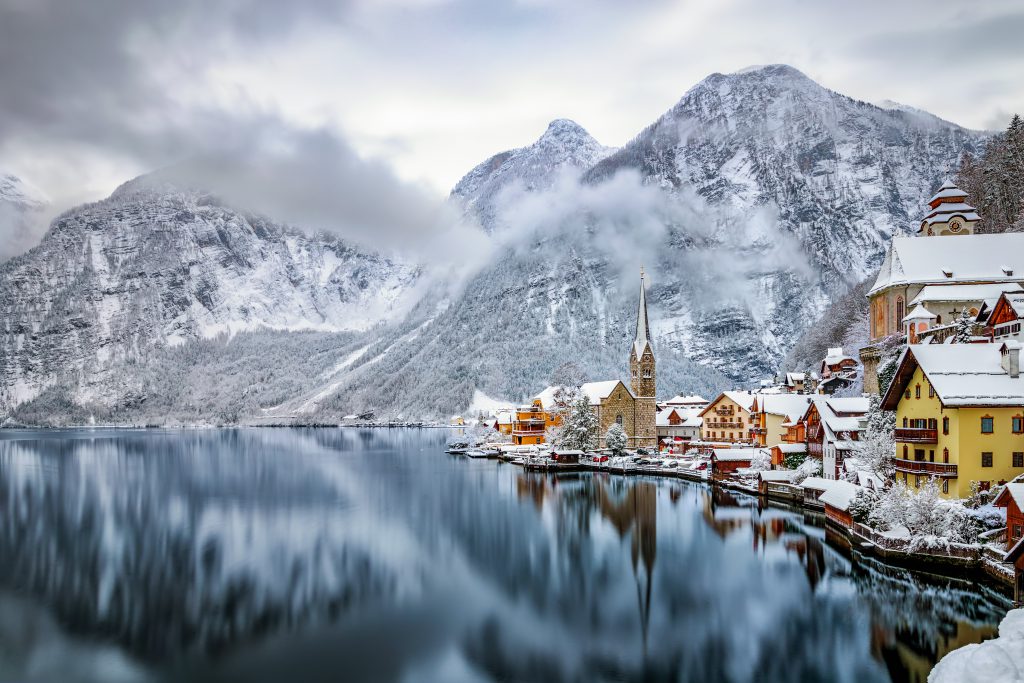 How large is your budget?  Do you enjoy traditional Alpine architecture? Are you in to the party scene?   Is fine dining a staple of your holidays? Do you need postcard-worthy landscape photos for your Instagram?  How important is the option to have a spa day? Yes, of course, you want to go somewhere with accessible beginner terrain but you also need to ask yourself these questions and more.
One resort you won't find on many "beginner resort" lists is Val d'Isere, which has a reputation for being a haven for expert skiers.  Whilst you will find a lot of advanced terrain in Val d'Isere it does also tick a lot of boxes for a great beginner resort.
Val d'Isere features:
A free, walk-on, nursery slope area in the middle of the village

An expansive first-timer and beginner's area on the top of one of the mountains which is accessible with a reduced-price lift pass and via a walk-on, walk-off gondola so you don't need to tackle your first chair lift until you're ready. 

Multiple mountain-top bars and restaurants accessible via gondola or cable car which are ideal ideal meeting points for groups of mixed skiing ability.

A fantastic array of restaurants from streetside pizza shops to two-Michelin star fine-dining.

Gorgeous traditional architecture.

An incredible apres-ski and nightlife scene.

A great public spa / swimming pool / gym / climbing wall / sports centre for non-ski days.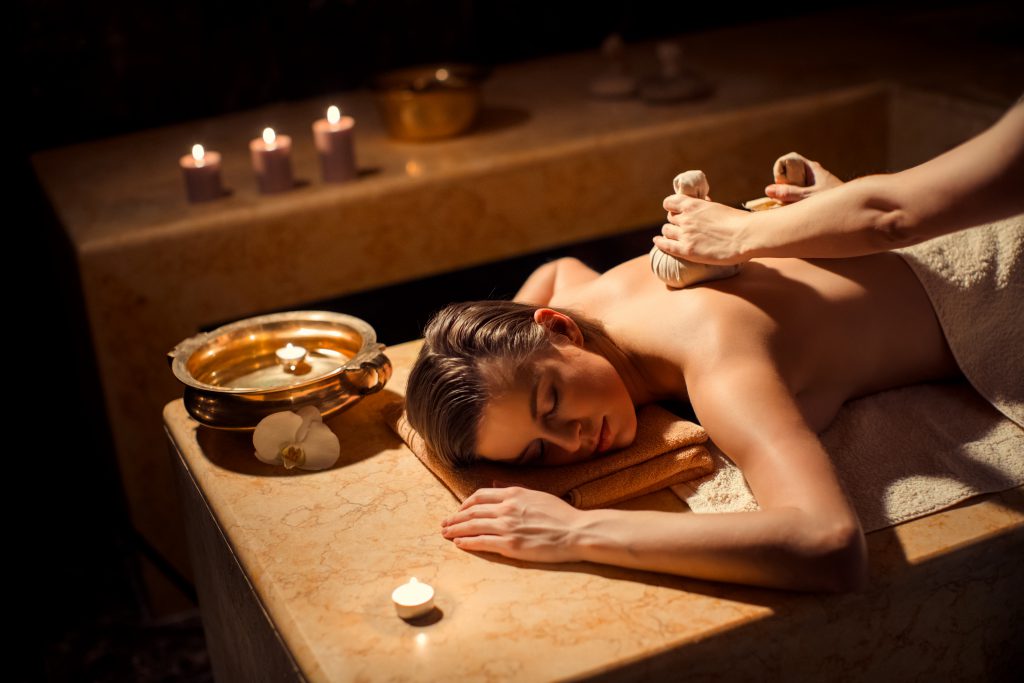 Obviously I'm not telling you to take your first ski holiday in Val d'Isere (it's not the cheapest place to go…), but it does serve to illustrate how important factors other than skiing can be to a ski holiday, especially when you're just starting out.
Book proper ski lessons: friends don't let friends teach friends to ski.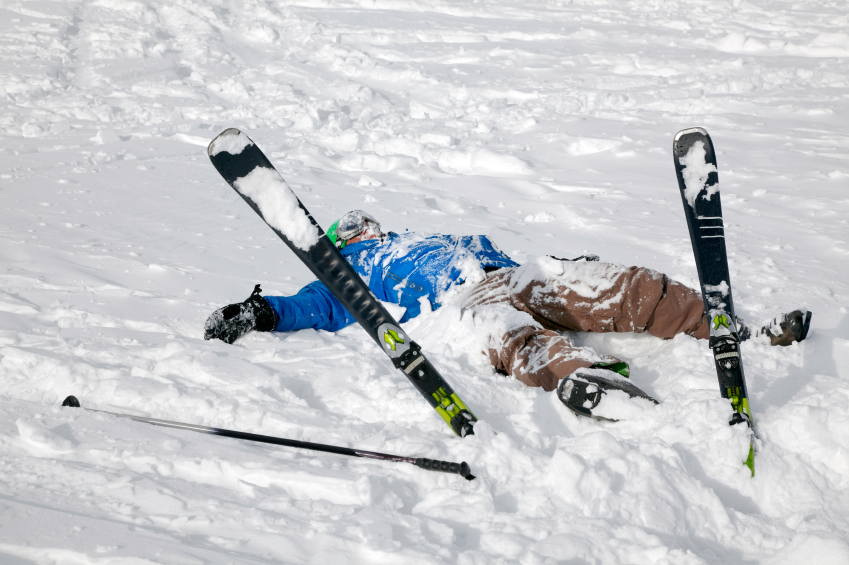 Whilst you can improve enough to cruise around and really enjoy yourself in a couple of days, skiing isn't a sport that takes an hour to learn – it takes a lifetime.  Even the most seasoned veterans are finding ways to improve, so the chances are quite good that your friends have picked up some bad habits along the way. Don't let them pass these on to you.
Even the best intentioned friends who aren't professional ski instructors will end up doing you more harm than good.  This could be from accidentally teaching you poor – or even unsafe – techniques which inadvertently hamper your progress or by getting bored/frustrated and pushing you too hard too fast.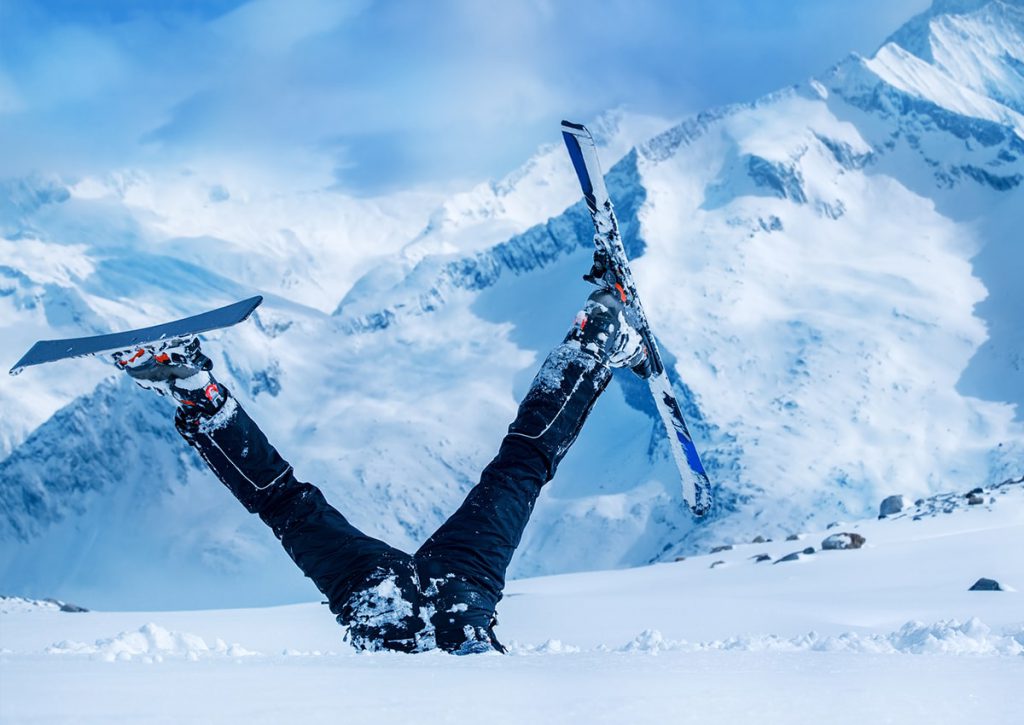 I chuckle to myself almost weekly when I see a couple screaming and falling out with each other on the local nursery slopes, but if I'm honest I've been in that situation myself more than once and it's never pleasant.
Getting a lesson from someone professionally trained to teach you how to ski will lead to dramatic improvements and a better experience than trying to learn on your own or with a friend.  If you're late to the game take some solace in the fact that you're far from alone: adults now make up over 30% of all beginner ski school lessons.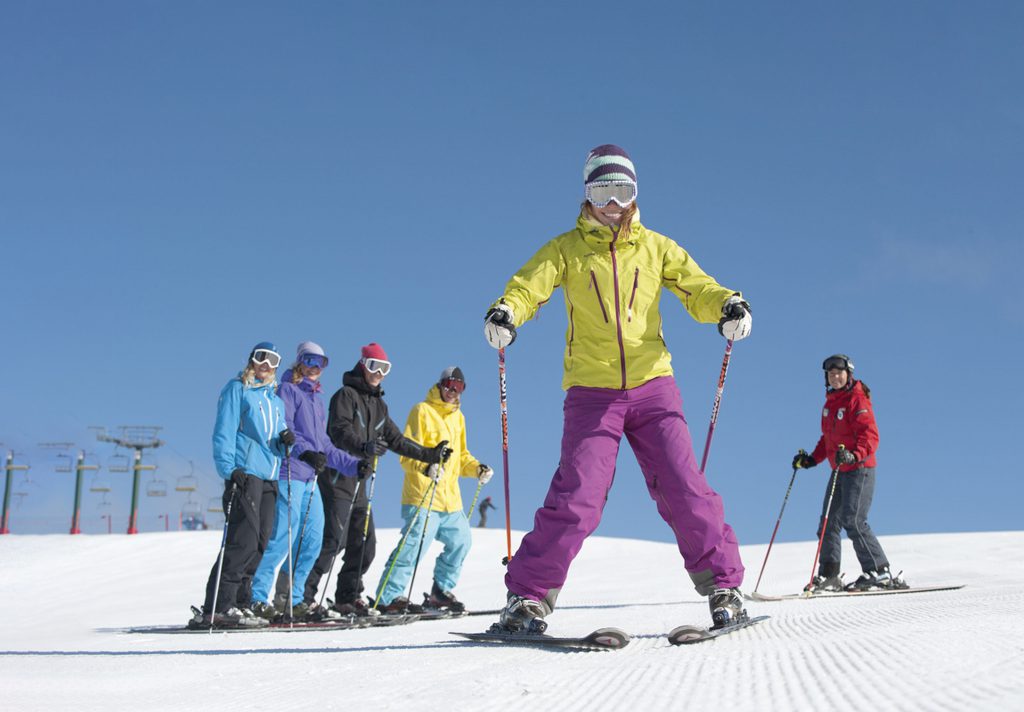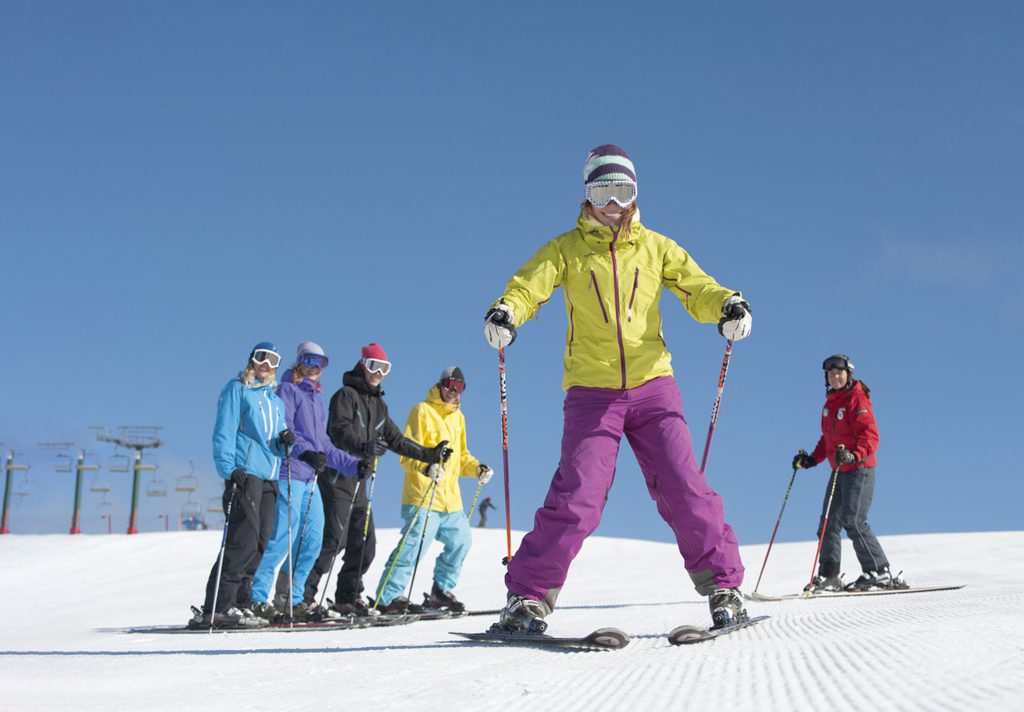 To find out all about the difference between ski school lessons and private ski lessons, check out this post that highlights the benefits of each.
Dress properly for skiing – having the right ski clothing will keep you warm and dry no matter the weather.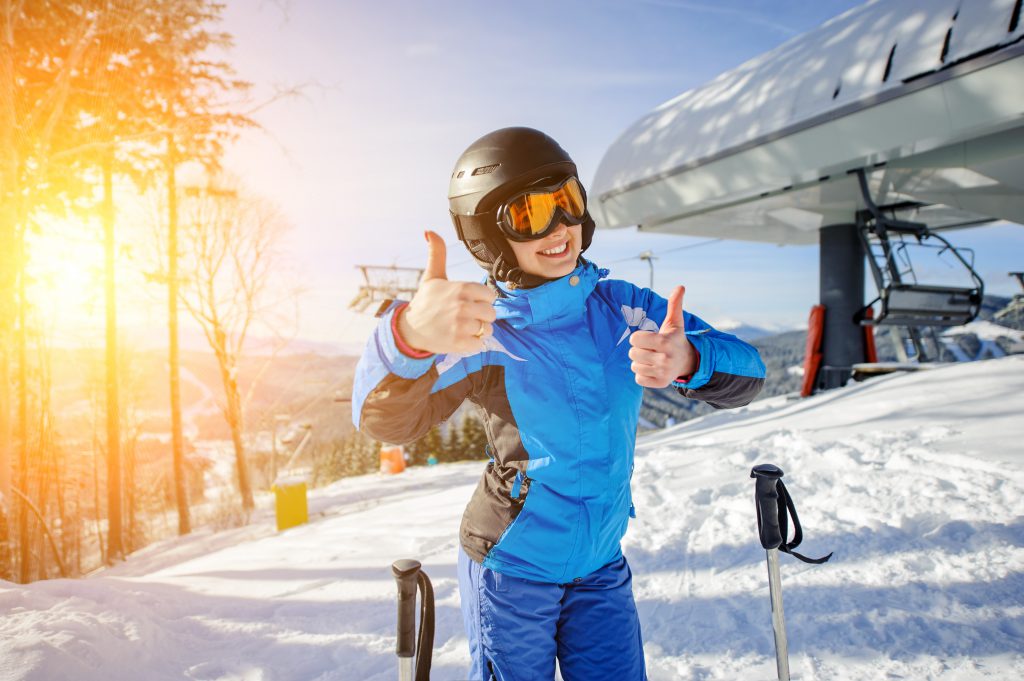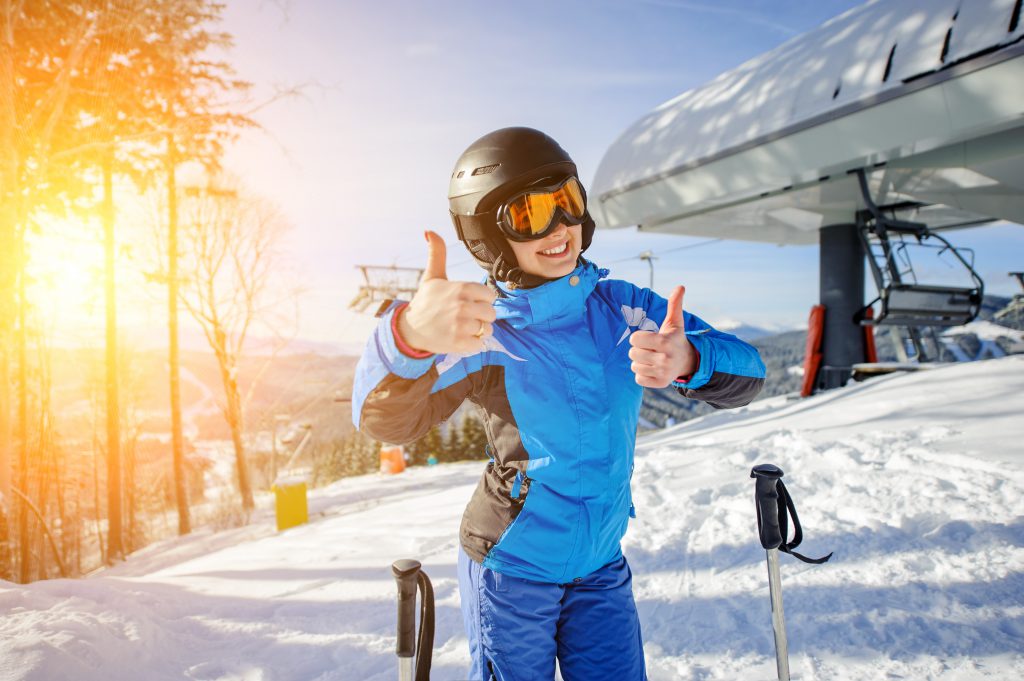 The first thing I'd like to say here is directed at one of my friends in particular, but likely applies to many people reading this as well: taking up a new sport does not mean you need to spend thousands of pounds on new kit.
Of course, if you'd like to spend a lot of money on new clothes feel free but it's very likely that if you're thinking of going on a ski holiday you've got some mates who ski already.  If you can borrow some kit from them you can save some money until you know for sure what kind of kit you actually like best.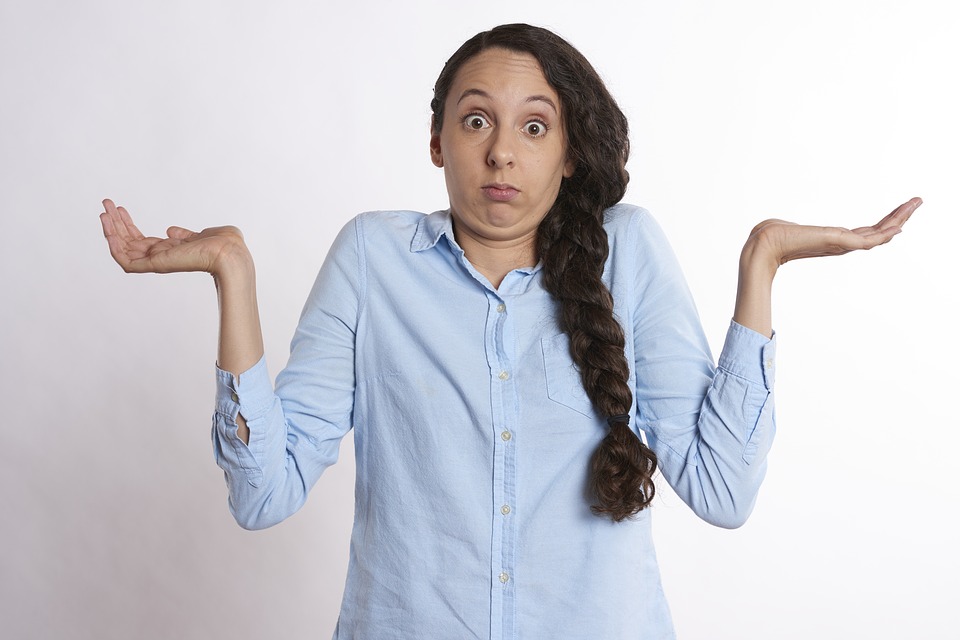 Whether you're buying or borrowing there are countless good articles on how to dress for skiing – I've written a great one that you can see here – but the golden rules are:
Your outermost layer of clothing should be waterproof.

Cotton should be avoided where possible, and should never directly be touching your skin.
Following on from the second point, one piece of ski clothing you'll want to buy is a base layer.  Base layers are like long underwear (aka long johns) but made from special materials designed to wick sweat away from your skin unlike materials like cotton which absorb and hold on to sweat and moisture which then gets really cold and ruins your day.  Check out the article I linked above if you want to learn more about the exciting world of base layers!!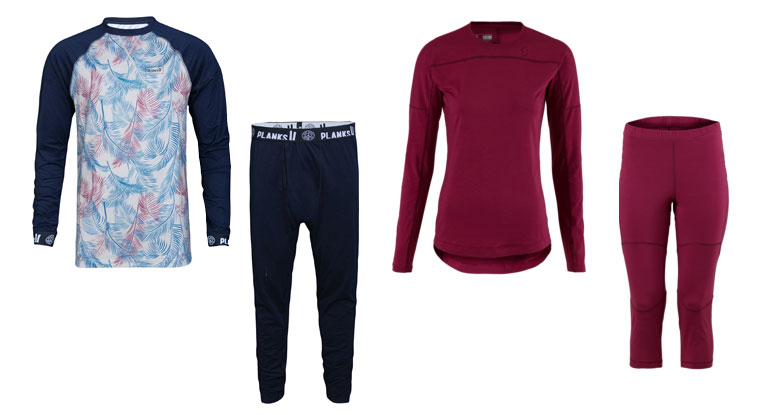 A good pair of ski socks is also a fantastic purchase (better off, get two pairs).
So, on your list ski clothing to borrow and/or buy, you should have:
Ski jacket

(waterproof / breathable)

Ski pants / salopettes

(waterproof / breathable)

Two (or more) base layer tops
Two (or more) base layer bottoms
Beanie or warm hat
Two (or more) fleece jumpers / mid-layers
Waterproof gloves or mittens
Neck warmer/scarf
Two (or more) pairs of ski socks
Ski goggles
Sports bra

(some people will find these more useful than others)

Sunglasses

(optional, but nice to have when it's sunny at lunch)
Don't be overwhelmed by this video, it's aimed at advanced/off-piste skiers but it will still give you an idea of how important dressing correctly and layering for skiing is.
Make sure you get the right kit for you: find a great ski hire shop.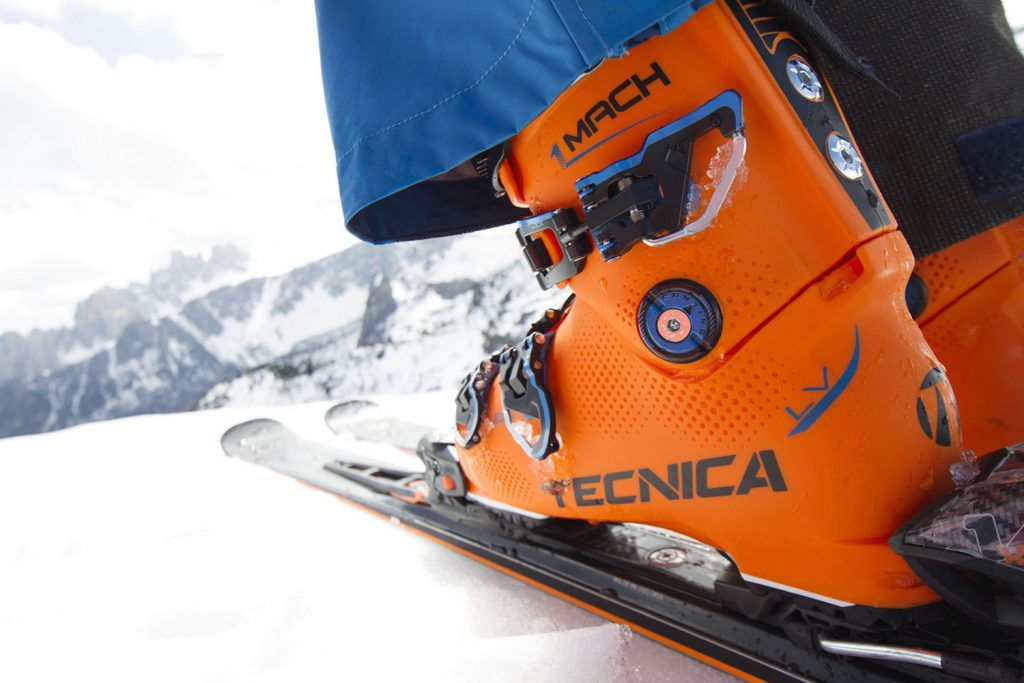 No matter how much of a pro you want to look like, don't even think about buying your own skis or ski boots for your first holiday.  If you want to ignore my advice to borrow clothing and go out and buy all the latest styles that's fine, but buying beginner ski kit is a waste.
You'll very likely quickly outgrow proper beginner skis – in terms of ability, if not height – possibly even during your first week on the slopes.  Rented skis can just be swapped at the shop for a different pair, purchased skis… not so much. You probably won't know what kind of skis you actually need until you've got a couple of week's experience.
Another tick in the win column for ski hire is the fact that you won't have to pay for an extra bag on your flight – or lug skis and boots around the airport.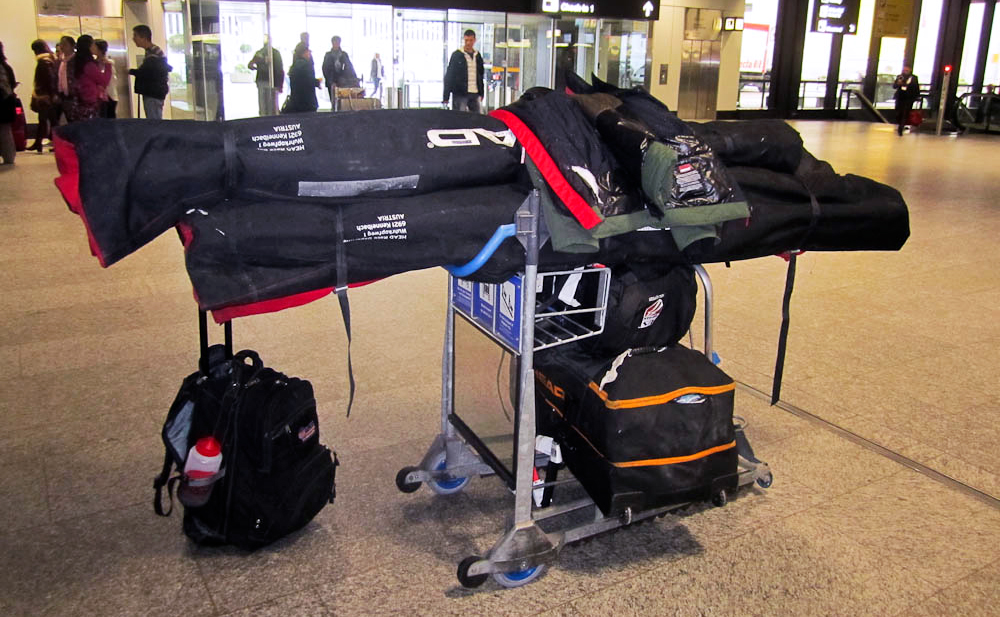 A good ski shop will not only kit you out with this season's latest gear, they'll also make sure that you've got safe, comfortable and suitable equipment for your age, size, skiing level and general athletic ability.
I'm not going to go into the nuts and bolts of what makes a certain kind of ski equipment best for a certain kind of skier, that would take much more space than I've got here and would likely bore you to tears.  Luckily, the ski techs that work in ski shops have done all that research so that you don't have to!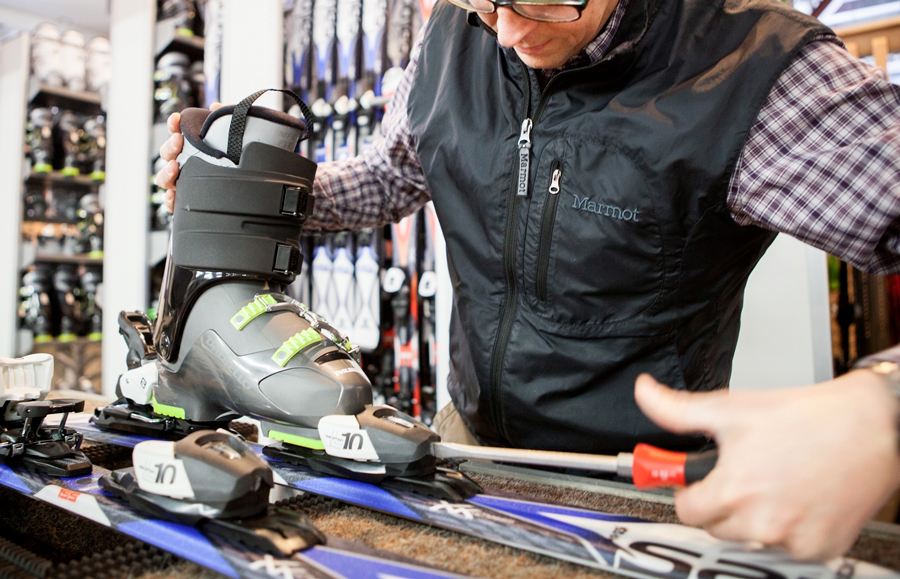 What you do want to make sure to do is avoid the temptation to go for the biggest discount or "best deal".  Paying very little money but getting old, ill-fitting equipment that ruins your expensive holiday isn't very good value for money.  Doing a bit of research before getting to resort and using a well regarded and well-reviewed shop that costs you a little bit more is worth the effort.
You'll find it much easier to progress in the proper kit, and your feet will thank you for it as well.
Show up in shape to ski – get those muscles moving!
I'll forgive you for thinking that skiing isn't going to be at all physical, after all you're just sliding downhill so gravity should do most of the work for you, right? 
Wrong.
As a beginner you're going probably not going to want to be going ripping around the slopes at 100mph like Vin Diesel in a Fast and Furious film (although driving a Ferrari up a ski run would actually be one of their more realistic scenarios).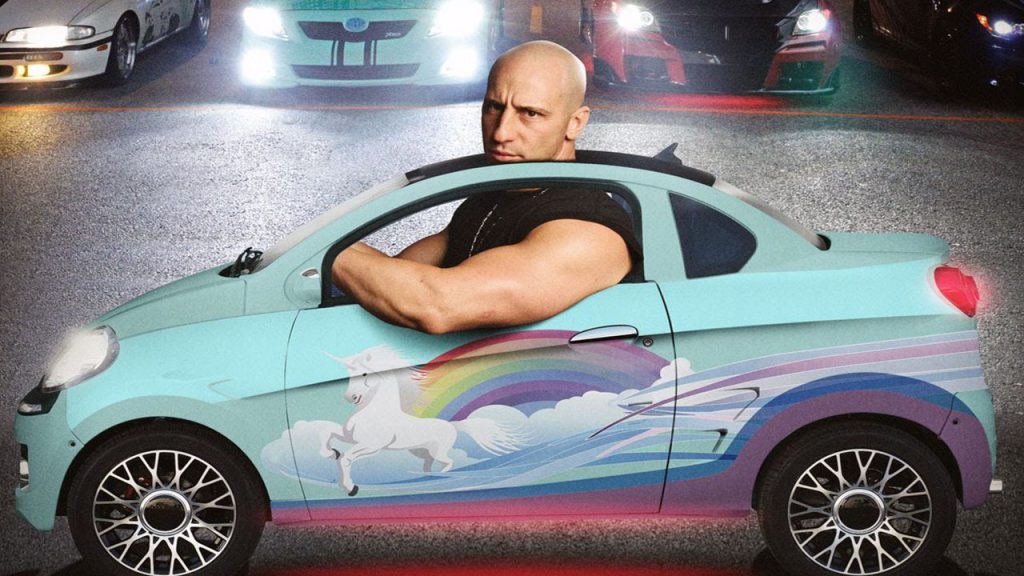 Keeping yourself in control, stopping and turning will all require some muscular input, likely from muscles you don't use everyday.  Whilst skiing – especially as a first timer – isn't exactly running a marathon it's never a bad idea to show up in decent shape.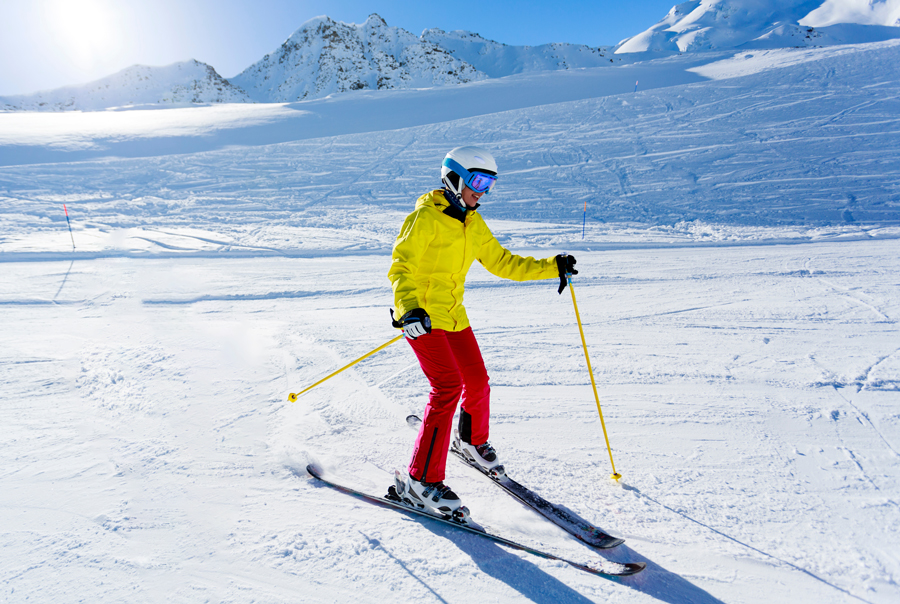 If you do yoga or go to the gym on a semi-regular basis you'll be fine.  If you don't do any exercise at all, try making small changes like taking the stairs or, even better, give one of our at-home pre-ski workout routines a go.
Most of all though, don't stress.  It's not that hard, it's a lot of fun, and even if you end the day a little bit sore it's a great excuse to enjoy a drink in a hot tub!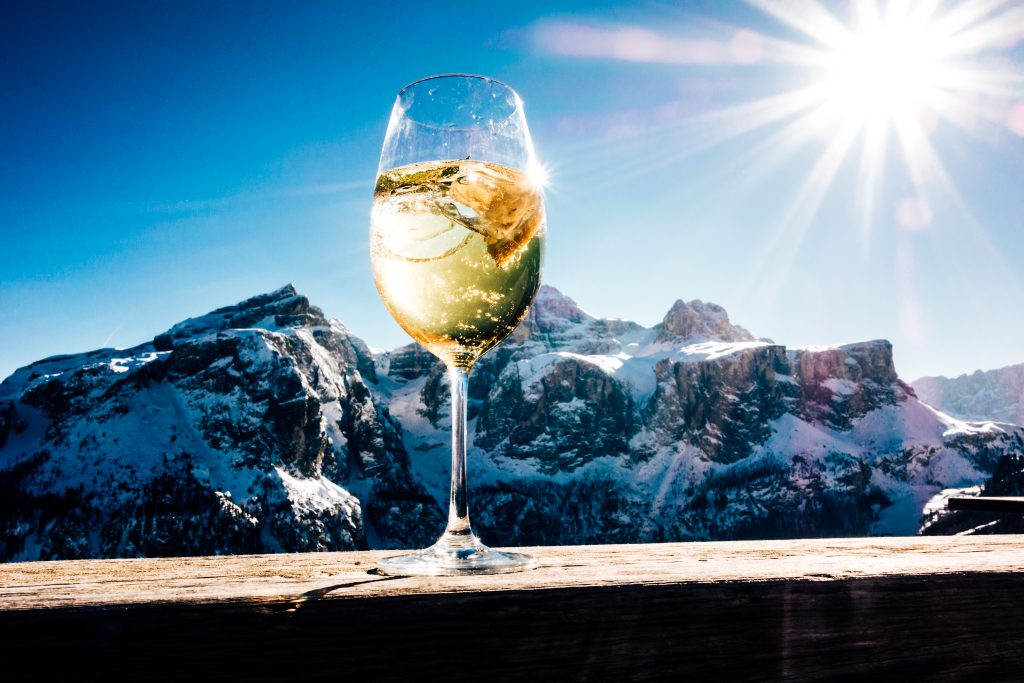 Remember, there are no stupid questions:
Just like running, cycling, golf, sailing, rugby, and every other sport and hobby there are a lot of things that current practitioners and enthusiasts take for granted, although even they had to learn it once upon a time.
On that note, please don't ever feel silly about not knowing what to do in a given situation or feel like you shouldn't ask a question.  Most skiers are super-friendly and welcoming of newcomers to their favourite pastime. As I include myself in the aforementioned group I've included a few helpful questions (and their answers) below.
What is a lift pass and how do I use it?
Simply put, a lift pass (aka. a ski pass) is like a train ticket – just as you need a train ticket to ride a train, you'll need a lift pass to ride the vast majority or a ski area's ski lifts.  Lift passes are available online or in-resort at the lift pass office and are usually sold for a half-day, full day or for multiple days. To use your lift pass simply pop it in a pocket on the left side of your body, the gates in front of the lift will read your pass as if by magic and let you through. 
What is a piste map and how do I read it?
A piste map (aka. a trail map) is a map showing you all of the groomed and secure runs around a given ski resort or area (piste is the French word for trail or run).  These pistes are colour coded to make it easy to find your way to runs that are the correct difficulty for your skiing ability.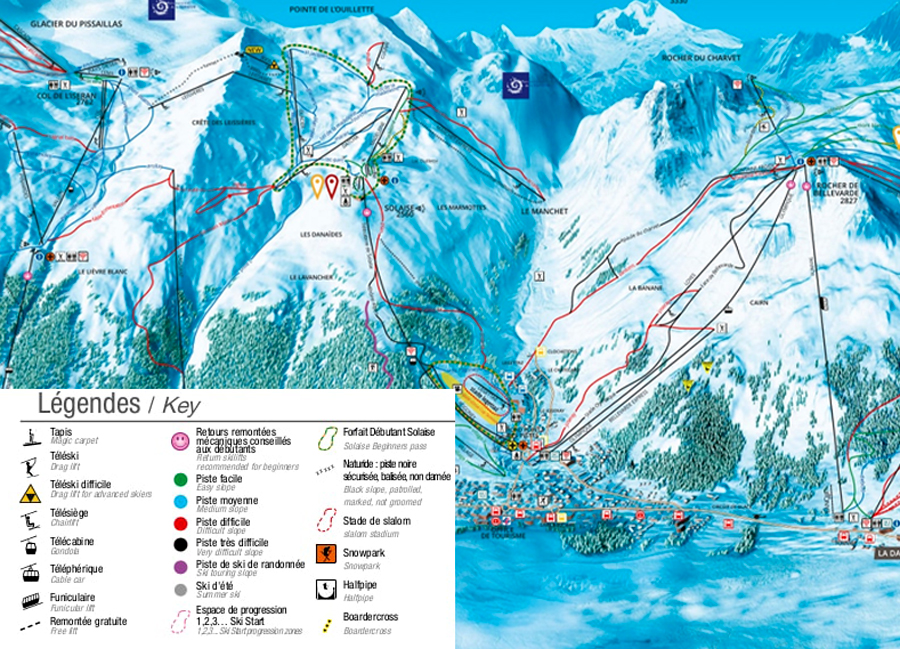 Green – Very Easy Slope.  Green runs is always the easiest, although some countries and resorts don't use green to mark any of their slopes.
Blue – Easy Slope.  In countries and areas that don't use green, blue slopes will be the easiest slopes on the mountain.
Red – Intermediate Slope.  Likely not going to be loads of fun on your first ski holiday.
Black – Expert Slope.  Probably best to give these a miss.
Some areas will also show orange/yellow/or purple runs.  These are ungroomed expert runs, the most difficult runs on the hill.  
In addition to pistes, piste maps will also show you a variety of lifts which will be denoted by symbols you can find on the map's legend.  "Magic carpets" essentially travelators usually have the easiest beginner slopes next to them. Gondolas and Cable Cars will allow you to walk on and off so you can get to the top of the mountain (and back down again) without having to know how to ski.
Why do I need sunscreen to go skiing?
Not only does the sun still exist in the mountains, it also reflects off the snow giving double the UV for half the price!  It sounds like a good deal, but unless you enjoy being sunburnt it's probably best to put on some suncream.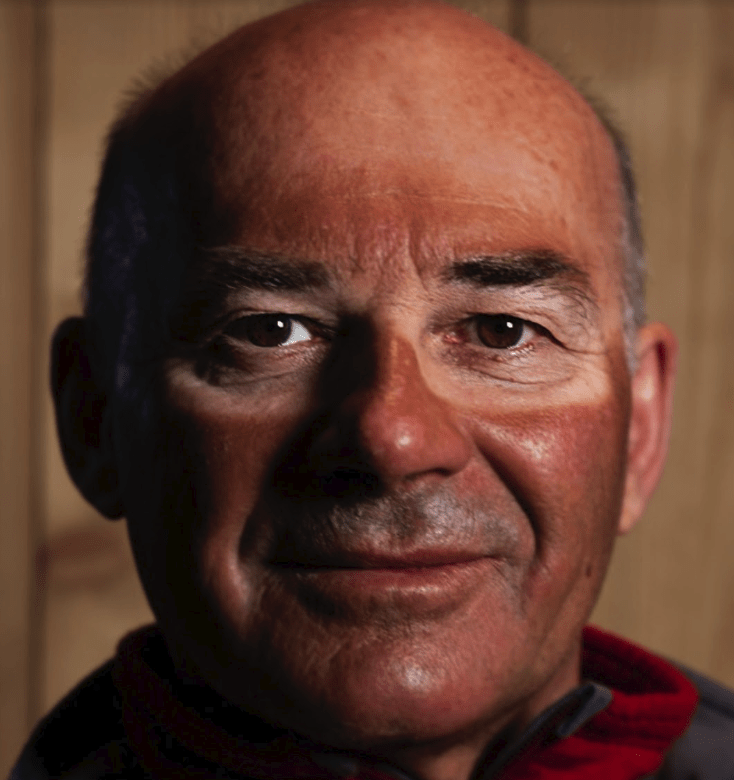 Do I need ski insurance?
Your credit card or bank account might cover you but unless you are absolutely certain of what it covers and are confident it covers everything you need I suggest buying third-party insurance and/or getting the ~£2 daily add-on insurance with your lift pass.
What are those people talking about?
Probably nonsense, but here's a guide to ski lexicon and slang that might help you figure it out.
How do I walk in ski boots?
Heel-toe, heel-toe.  Don't clomp around or over think-it.
Keep in mind, if you have to go up or down stairs, you'll want to turn sideways and plant your feet flat, parallel to the stairs you're using.  Probably not a bad idea to hold the handrail either.
What else should I bring on my trip?
Have a look at this ski-trip packing guide I made.
There are people who don't "get" skiing and wonder why anyone would spend good money to go somewhere cold for a week when they could be on a beach.  These people have clearly never enjoyed the sensation – almost like flying – of gliding down a winding mountain trail, breathing in crisp, pure mountain air whilst surrounded by the most stunning landscapes nature has created over billions of years.  
You're now well on the path to understanding what all the fuss is about, and I'm super excited for you! 
Welcome to your new favourite hobby – you just might get so addicted that, like one of my very good friends, you quit your job after your second ever ski trip and spend a full winter season travelling around the Alps in a small camper (with a bathroom)!
Although, he's definitely a bit of an edge case, it really shows just how addictive skiing can be.
See you on the slopes.
Peter