How Long Does it Take to Learn to Ski?
Most adult beginners find that they can start to ski independently on beginner and easy intermediate slopes by the end of their first week of ski school lessons or after two or three half-day private lessons.  
A general timeline for learning to ski with a ski school is:
Day one:

Learn about your equipment and your surroundings. Begin to make slow, wedged (snow-plough) turns down a very gentle gradient.

Day two:

Slowly linking left and right snow-plough turns down very easy slopes. Possibly take your first chair-lift at altitude.

Day three:

Linking left and right snow-plough turns on slightly more challenging terrain. 

Days four & five:

Re-enforcement of skills.  Explore more of the mountain including slightly harder ski runs.  Possibly start the beginnings of more difficult (parallel) turns.
For a more in-depth look at what it's like to learn to ski and snowboard as an adult we asked one of SkiBro's co-founders, Debby, to share her experience with us.  (Click here to skip straight to her list of Tips for First Time Skiers.)
Why learn to ski as an adult?
Skiing is almost universally loved by those who try it.  Ask any skier or snowboarder and they'll tell you how they live for their ski holidays – how nothing compares to the feeling of standing on top of a mountain, soaking up the majestic views and breathing in the fresh, crisp air, before gliding down a snow-covered slope to enjoy a delicious lunch underneath a bright blue sky on a sunny terrace.  
At least that's what my husband Kieran used to say to try and convince me to go skiing with him back when we were first dating!
My First Winter Holiday
I was a bit wary, but I agreed to go on my first ski holiday, taking some comfort in knowing that many new skiers were older than me when they hit the slopes with over 33% of first-timers learning to ski at 40 or older!  
In my mind, I was still a late starter – I was in my late 20s and I had never skied or even been on a ski holiday. I'm Irish – we're not exactly known for our winter sports prowess 🙂  
I still remember driving into resort and seeing the mountains for the first time… I have to admit that I was intimidated by the sheer size of them and even angry at Kieran for convincing me to give this a try – I swear we almost broke up that night!
The next day, I got on a snowboard for the first time and I… hated it.  For the first hour anyway – after that I found my feet, got some confidence and I've never looked back!  I became hooked on the feeling of freedom you get – I always say being on a ski slope is the closest feeling to being able to fly.  
Ski trips almost instantly became a massive part of my life, we visited resorts in the Alps every winter and even made it to North America a couple of times!  More recently, when we set up SkiBro, we packed up and moved to Val d'Isere permanently!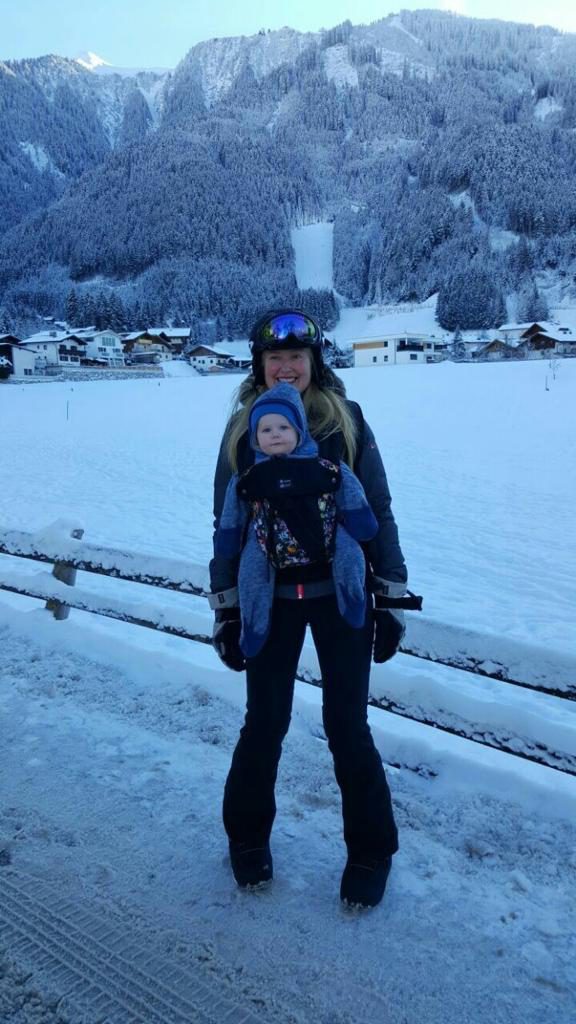 Starting From Scratch (Again)
When my son turned three and was old enough for ski lessons we put him straight into ski school and I decided to swap my snowboard for a pair of skis.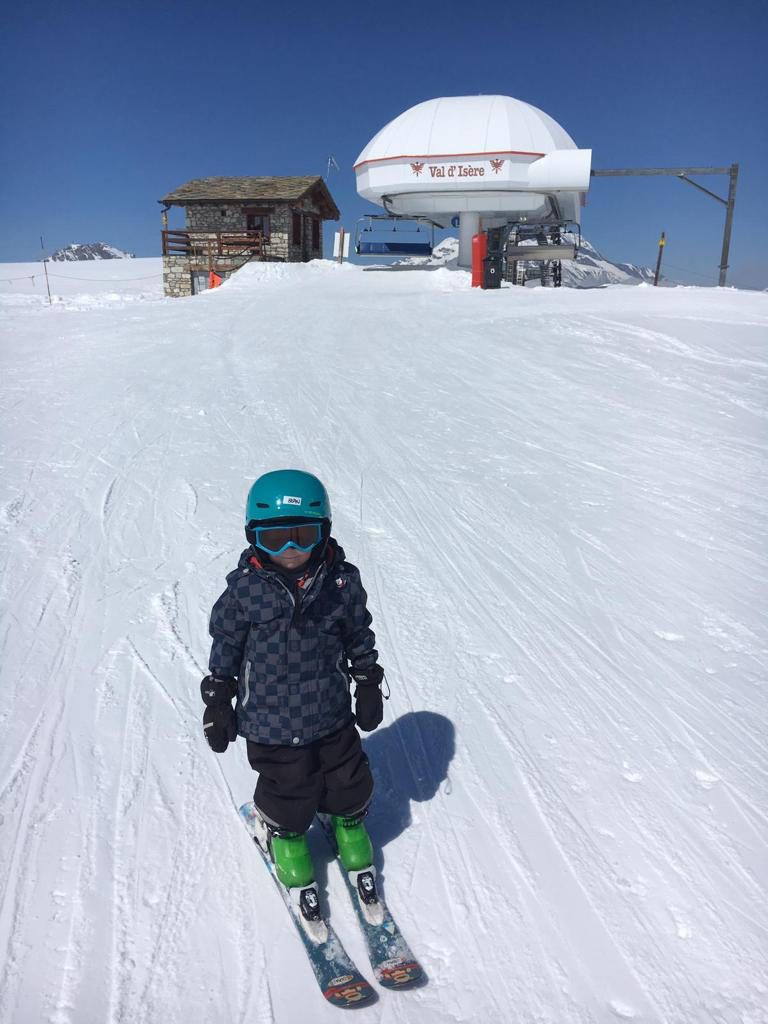 It was a bit frustrating going back to square one, but well worth it as I absolutely love being able to ski with him – to have a sport we can enjoy together as a family.
Despite my experience on a snowboard, learning to ski is a different skill and I didn't take to it quite as easily as I thought I would – there's still a bit of a learning curve.  Don't be put off it takes you a little bit longer than others to find the love for skiing, you'll get there.  
To make things as easy as possible for you I've talked with some outstanding ski school directors and top private ski instructors to come up with a list of top tips for beginner skiers.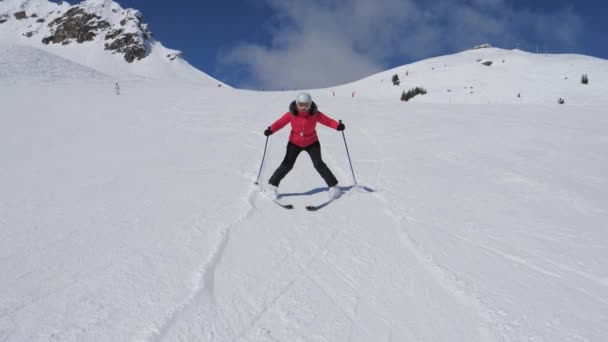 Top Tips For First Time Skiers.
1 – Choose the right ski resort:
When skiing for the first time it's crucial that you go to a ski area with good, easy to access, beginner ski areas that offer free or reduced-rate lift passes.
2 – Get in shape for skiing:
You don't have to hit the gym eight times a week, but as a first-time skier you'll get more out of your time if you wake up the muscles you don't use very often by following ski-fitness tips like these in the lead up to your holiday.
3 – Learn to dress properly for skiing:
There's no such thing as bad weather, only bad clothing. With the right ski clothing, you'll always be warm and comfortable. If you have friends who ski try to borrow their kit instead of buying your own (except base layers and socks, you'll definitely want to buy your own).
4 – Find a good ski hire shop:
Renting ski boots shouldn't be like renting bowling shoes – getting the right ski boots for your feet and your ability is essential. Make sure you use a reputable shop who will take the time to find the right boots for you.
5 – Get lessons:
Real friends don't teach their friends to ski. You'll both have a much better time if you enlist the help of a professional ski instructor or joins a ski school. There are pros and cons to weigh when deciding between private lessons and group lessons but professional instruction – at least for the first day or two – is a must. 
You'll be in good company – adults now make up over 30% of all beginner ski school lessons.   Without proper instruction you risk falling out with your friends, learning bad habits that will be difficult to lose later on or, worst of all, being taught in an unsafe environment and getting injured.
6 – Give yourself three days:
Whilst the principles of learning to ski are more or less the same regardless of age, adults often spend the first day or two dealing with feelings of frustration that kids just don't have!
Things often 'click' mid-week and you'll be in a better place to decide how you really feel about skiing.
7 – Learn the lingo:
Hearing new and unfamiliar terms all day can send your head spinning so read up a bit on ski terminology.  Even though your first couple of days will be on the 'nursery slopes' or the 'bunny hill', know that après ski is possibly the most important term you'll want to know!
8 – Leave your pride at home:
No matter how good you get at skiing, there is always going to be a 9 year-old who is better than you.  This is true even for the guys in the office who started skiing as toddlers and have lived in the mountains for decades. 
Skiing isn't about what other people are doing, it's about how much fun you are having.
You Can Do It!
If you like the sound of travelling to beautiful new places, immersing yourself in nature, meeting like-minded people, getting a workout without even knowing it and disconnecting from the 'real world' for a week at a time, skiing could easily be your next love. 
Swapping a snowboard for skis and going back to being a beginner was a bit frustrating at first, but the other reason I'm learning to ski is because I think it's really important to not stop learning new things. I want to push myself to new have new experiences every day.  
Picking up any new activity past a certain age can be daunting at first, but learning to ski as an adult isn't as hard as you probably think it will be.  Plus there's scientific evidence that learning a new sport as an adult is good for your brain!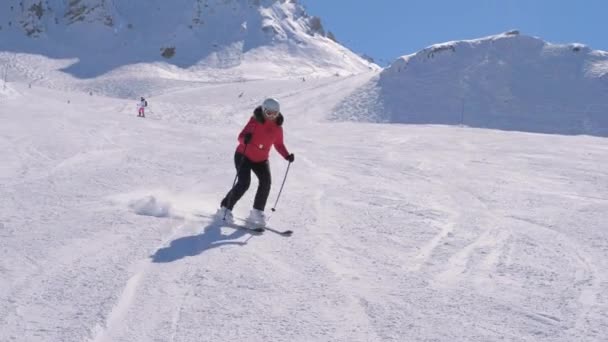 Everyone is Welcome
The world of winter sports is very different now than it was 20 years ago.  People of all ages and all walks of life are taking up skiing. It's no longer something you're born into, everyone has access.  So don't be intimidated – just get involved!  Trust me, you'll thank yourself later.
They say that the journey of a thousand miles begins with one step, and you've already taken step one.  Just by coming to read this first-timer ski tips guide you're already on your way to enjoying your new life on the slopes!
Everyone here at SkiBro loves helping new people discover the magic of the mountains and we can't wait to see you in the mountains. 
As legendary ski filmmaker Warren Miller put it: If you don't do it this year, you will be one year older when you do.
Hopefully, you found these beginner ski tips useful!  If you did, please drop me a line in the comment section below, I'd love to hear from you.  I'm also more than happy to answer any questions you might have – if you want a list of great ski resorts for beginners I'd happy to send that your way 🙂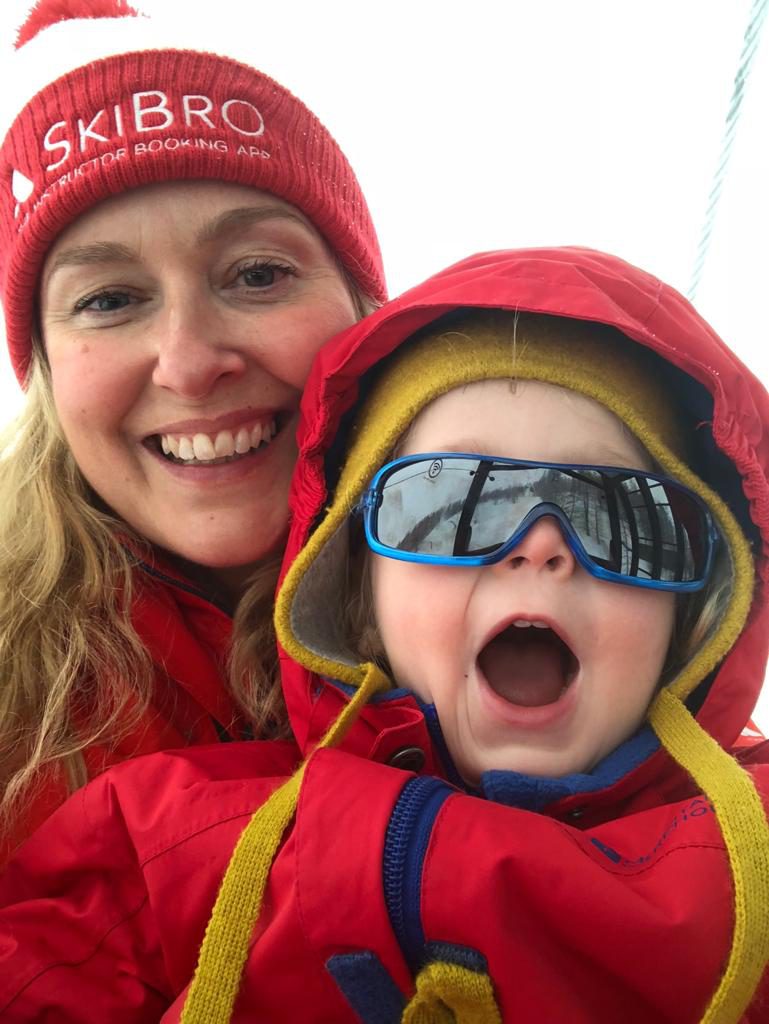 See you on the slopes,
Debby x