The Best Ski Resorts for Summer Skiing
Did your skiing holiday in the winter season not work out? Never mind, you don't have to wait until the next winter snowfall. Believe it or not, you can also enjoy European summer skiing! You heard it here first. 
There are some beautiful year-round ski resorts in Austria, Switzerland and France. Be like the pros and ski all year round—you can even watch them practising in many summer ski resorts.
Summer skiing holidays are fun for the whole family. European glacier resorts offer so much more than just skiing in summer! Enjoy the best of both worlds where some of the family can go mountain biking or swimming, whilst the other half can enjoy themselves on the slopes.
So, without further ado, here are some of the best resorts where you can ski and summer and much more!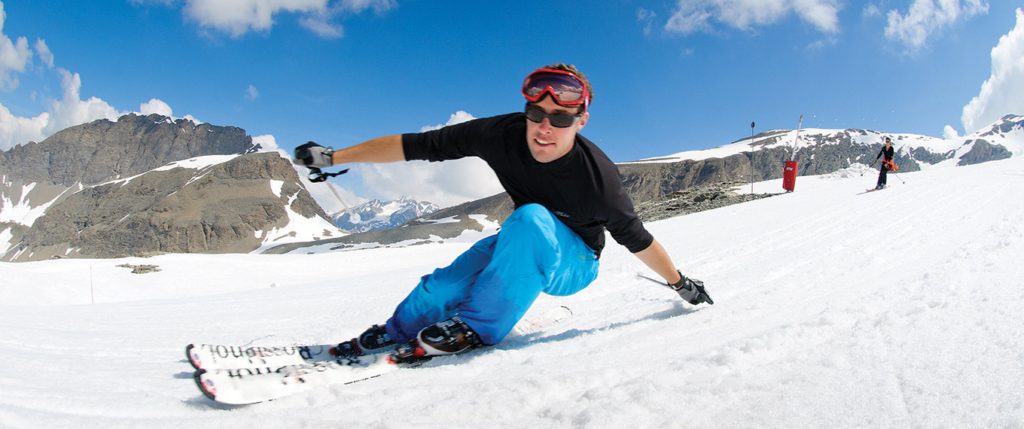 Summer skiing in Austria
Hintertux Glacier – Summer skiing for advanced skiers
The all-season skiing area, Hintertux Glacier, is located at an altitude of 3,250 metres and has about four metres of snow even in the summer. While other summer ski areas are often only open in the mornings, here you can enjoy 20 kilometres of pistes in the high-altitude sun from 9 am to 4 pm. 
Most of the routes are reds, which will particularly delight advanced skiers and experts. Beginners will find it rather difficult at the Hintertux Glacier in summer if they cannot master red runs.
If you would like to spend a day without skis, there is also a lot on offer off the slopes. 
You can go ice bathing in the glacier, caving in the ice caves or enjoy mountain bike tours and nature adventure hikes. 
The Glacier Flea Park is open for the little ones, where kids can learn everything about the eternal ice by playing on a children's glacier safari, among other things. 
Directions: 
By car: Only one hour from Innsbruck 

Train: Get the fast train to Jenbach, Zillertalbahn to Mayrhofen, Postbus to Hintertux

By plane: Innsbruck 80 km, Munich & Salzburg 180 km
Mölltal Glacier – Skiing in summer with children
The Mölltal Glacier lies at an altitude of 3,122m and has almost 18 kilometres of pistes in summer. The nine glacier lifts are open 320 days a year from 8 am to 3:30 pm. 
On the three slopes that are open in summer, you can sometimes meet some professionals who are training there or testing the latest equipment. The snow terrain park is also open in the summer months, and there are blue and red slopes so that beginners and kids can also enjoy summer skiing.
Off the slopes, there is plenty on offer in the Hohe Tauern National Park. From mountain biking and hiking to paragliding, golfing and much more. How about a summer camping holiday where you can also make lines in the snow? Kärtnerland, where the Mölltal Glacier is located, offers the whole family an unforgettable summer ski holiday.
Directions:
By car: A good two-hour drive from Salzburg

Train: To Mallnitz railway station, then about 15 hours' drive to the glacier

By plane: The closest is Klagenfurt airport, with a shuttle bus from there
Summer skiing in Switzerland
Saas-Fee – A summer skiing area for the pros
From mid-July, you can enjoy summer skiing on 20 kilometres of pistes on the 3,600m high glacier in Saas-Fee. Watch the Swiss ski team train, try a few new tricks in the snow and freestyle park or take a few leisurely turns in the high-altitude sun. 
As the slopes are only open until midday, you have time to do other activities in the afternoon. The mountain lifts run until 4 pm. Visit the ice pavilion, which takes you into the depths of the glacier, or go biking, hiking, climbing or swimming. 
Directions
By car: 2 ½ hours from Bern, or just over 2 hours from Lausanne 

Train: Go to Visp railway station, continue from there by post bus

Airport: Fly to Zurich, Geneva, Milan or Basel. From there, it's only 3 hours by public transport
Zermatt / Matterhorn – The largest summer ski area in Europe
At 3,883 metres above sea level lies the Matterhorn Glacier Paradise, the largest glacier in Europe. The all-year-round ski area is always open and the glacier offers about 21 kilometres of pistes in the warm season so you can make the most of Europe summer skiing. 
Many European national ski teams also train there, but this does not mean that it is only suitable for advanced and professional skiers. Beginners also get their money's worth on blue slopes in Zermatt. The summer snow park is one of the best freestyle parks in Europe. 
If you want to explore the glacier without skis, the Matterhorn Glacier Paradise is the place to go. You don't even have to ice climb to explore the bottom of the glacier at a depth of 15 metres. A lift takes you there in complete comfort. 
Off the slopes and in the summer valley, there are numerous hiking trails, golf courses, swimming opportunities and mountain bike tours. 
Directions
Car: Drive from Visp in 35 minutes

Train: Go to Brig or Visp railway station, then take the Matterhorn cable car

By plane: From Bern airport, it's approx. 2 ½ hours
Summer Skiing in France
Tignes – Skiing in summer for early risers
At an altitude of 3,656m lies the summer ski area on the Grande Motte glacier in Tignes, which, together with the Glacier du Pissaillas in Val d'Isère, is open to summer skiers from mid-June. 
On around 20 kilometres of pistes, early risers can make their tracks in the snow from 7 am to 1 pm or learn new tricks in the fun park with 15 rails and numerous jumps. Beginners will also get their money's worth on some of the blue slopes!
In the afternoon, the Tignes Bike Park offers numerous opportunities to let off steam. Golf, hiking and water sports are also on offer. The possibilities in the area around the village of Tignes seem almost unlimited. 
Directions
Car: From Geneva, it's 2 ½ hours

Train: Go to Bourg Saint Maurice station, from there take the bus

By plane: Arrive at Geneva airport, then shuttle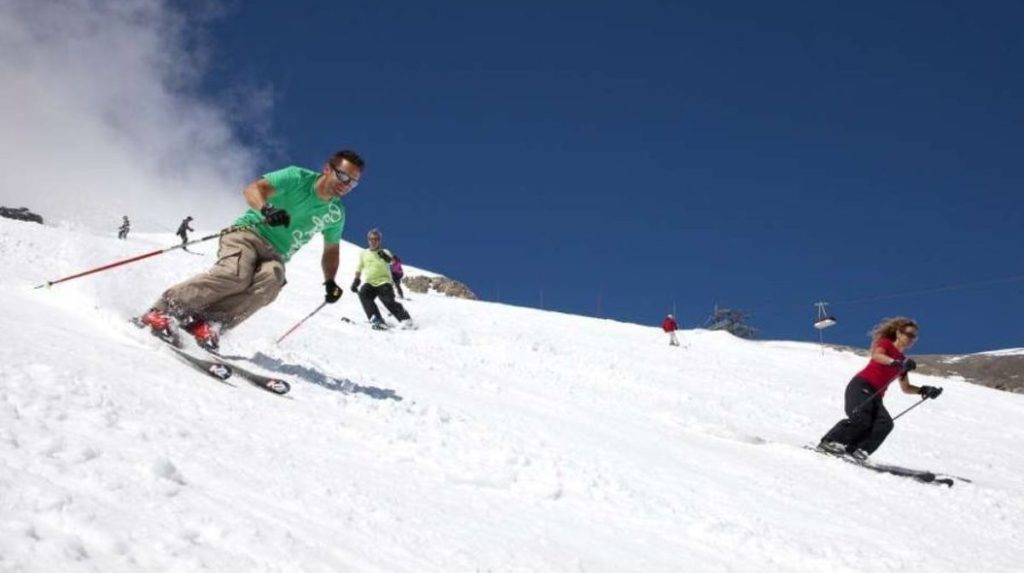 Les 2 Alpes – Summer ski area for freestylers and beginner
At 3,984m, La Meije in the Les Deux Alpes ski area is the highest peak of our featured summer ski areas. From mid-June to the end of August, you can ski eight slopes here, most of which are leisurely blues. Therefore, children and beginners will feel especially at home there. 
Freestylers will also get their money's worth in the 2 Alpes Freestyle Land. So that the advanced skiers don't get bored, there is a cross course and a superpipe.
For days without skis, there are special thrills in the bike park of Les 2 Alpes, numerous hiking trails, paragliding, horseback riding, climbing and bungee jumping. For those looking for a little thrill and action, Les 2 Alpes is just right.
Directions
Car: From Geneva, it's 2 ½ hours

Train: Grenoble train station

By plane: Grenoble airport