10 Tips for sending your child to ski school
A family ski holiday can be both exciting and hectic. Skiing with children is like trying to herd cats and sometimes, you feel like you need a holiday, from your ski holiday, just to recover! 
We've created our top tips for skiing with kids and sending them to ski school to help make your family holiday smooth and stress free. 
Know your ski lesson meeting point
The first day of ski school can be smooth and stress free providing you, and your child are prepared. 
You will need to know three things about your meeting point:
where it is in relation to your accommodation

how you will get there and,

how long it will take to get there.
It is important to tell your child where they are going and what they are doing. Reassure them that they will have fun, make friends, and when they have learnt to ski, they can ski with you!
If you are unsure where your meeting point is, you can contact your ski instructor or ski school by logging into your SkiBro account. 
Don't Linger at the ski school drop off
Dropping your kids off for their first day of ski school can be a jumble of emotions for both yourself and your offspring. Once you know your meeting point, you only need to do the following:
arrive 15 minutes before the lesson start time and,

leave as soon as your child has found their instructor.
The longer you stick around, the harder it is for both of you. The first day of lessons at the meeting points can be very busy in larger resorts. One less person will only help ease any chaos.  
Pocket Power
There are a few key essentials that we recommend putting in your child's ski jacket or salopettes: 
a snack

ski pass  

your contact details 
Snack: 
Skiing is a hungry sport. Kids will want all the extra energy to keep up with their classmates and stay warm. We advise packing a small snack such as a granola bar in their pocket. Try to veer away from items such as bananas as they tend to smush when fallen on… 
Ski Pass: 
If a ski pass is required, put this in a zipped pocket on the left hand side of your child's clothes. Most ski resorts won't require a lift pass for the beginner's area. However check your resort or contact your ski instructor or school via your SkiBro account before your arrival. 
Ensure that no other items are in the 'ski pass pocket' so that your child doesn't accidentally open it to grab a Mars bar and the ski pass falls out! 
Your contact details:
Putting your business card or a piece of paper with your contact information and your child's name in their pocket is essential. 
This will be the first place a ski instructor looks, should they need to contact you for any reason. It will make the instructor's life a little easier and give you some peace of mind. 
Rest is best
Travelling can be tiring and sometimes you won't arrive into a resort until late in the evening. 
If you've had a long journey or are arriving late to your chalet or hotel, we recommend starting ski school either the following afternoon or a full day after to ensure the little ones are well rested before conquering the slopes.
Safety first 
While wearing a helmet isn't mandatory in every resort, some schools will enforce mandatory helmet wearing for all students. We highly advise all skiers and snowboarders to rent or purchase their own helmet – no matter your age. 
Opt for ski school lunch
Many ski schools will offer lunch groups for kids that include a meal and supervision. The offer is more predominant within German and Austrian ski schools, however some French ski schools offer this too. The cost is approximately €10 – €14 per child, per day.
Choosing the lunch option makes it easier for both yourself and the instructor avoiding having to arrange meeting points and times during the day. The best part of it all, is that you can go enjoy your lunch, child free, in the sunshine, possibly with a cold glass of rosé! 
Of course, if you would like to have your kids with you over lunch, this option is flexible and there are typically no requirements to book a full week of lunch supervision. 
Book ski lessons in advance
Particularly in school holidays and over Christmas, ski lessons will book up sometimes months in advance. 
Book your child's ski lessons as early as possible to ensure that you aren't left teaching the little ones yourself and having no personal ski time. 
With the high possibility of reduced group sizes due to physical distancing rules, the demand for ski lessons will increase with the same number of ski instructors. 
Check the availability in your resort for your upcoming ski holiday here. 
Hire a nanny or book childcare
If you're in the fortunate position to have an extra pair of hands with you during your holiday, hiring a nanny will make ski school drop off and pick up a breeze. 
They can help you with:
Getting the kids out the door, dressed and ready

Taking them to meet the ski instructor

Collecting them after their ski school 

Bringing them to meet you at a restaurant or accommodation
There are many nannies that operate from within the resorts throughout the winter, so you don't need to worry about bringing them from home if that's not an option for you. 
Alternatively, some schools offer childcare as part of a ski school package. Keep an eye out for this when shopping for your child's ski lessons on SkiBro! It's a cost effective way to make sure your child is looked after, having fun and making friends while you're enjoying your ski time.
Check the weather forecast 
As parents, I'm sure you've heard a thousand times from your little one that they're not cold – and they're probably not! 
While kids don't feel the cold like we do, it's a dangerous illusion as they are still susceptible to heat loss, frostbite and hypothermia. 
Keep an eye on the weather forecast in the upcoming days before your trip!
If it's going to be particularly cold – aka not spring skiing – we recommend lots of layers that can be easily removed if they get too hot or decide to tear off their jacket. 
Label EVERYTHING 
On the subject of tearing off ski gear, we recommend labelling ALL of your child's ski clothes. 
This will make it easier for the instructor or supervisors to return any kit to their rightful owner. 
One final note….
We get it. Mornings with children are hectic. 
Mornings with children and preparing them for ski school can leave you wanting to reach for that rosé before you've even left your accommodation. Believe me, I've worked in chalets before and have had a few parents say at 8:30 am 'is it too early for wine?'! 
In light of this, we've created the ABC (Ankle Biter's Checklist) to ensure that leaving your accommodation and arriving at ski school is a little easier.
ABC (Ankle Biter's Checklist):
skis 

helmet

ski boots

ski poles (if needed)

non-mushy snack

your contact details 

sunglasses / ski goggles 

neck scarf / ski buff

ski gloves 

thermal layers

medication (if needed) 

suncream 

spare underwear – you never know!

spare shoes to change into (if they are in care all day)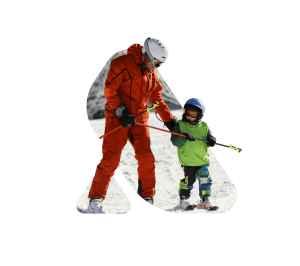 For more information on taking your children on a ski holiday, read our brief guide to staying safe and having fun by our Verbier based independent instructor, Sandy M. Sandy also has some useful tips for taking your little ones skiing! 
If you have any other questions regarding sending your children to ski school, please feel free to get in touch or contact your instructor via your SkiBro account.